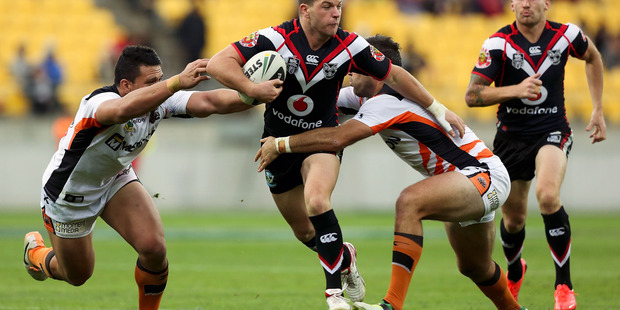 While the State of Origin series will take centre stage over the coming weeks, especially after New South Wales won game one on Wednesday night, the period will also reveal much about the Warriors.
The Origin period is a crucial time for the Auckland club. It's not quite make or break for their season, but just about.
They are on an upward surge under new coach Andrew McFadden but there's no wriggle room after winning just five of their first 11 matches.
The Origin window should be a time when the Warriors profit. Their squad is usually unaffected by the interstate games - Brent Tate, Steve Price and Jacob Lillyman have been recent exceptions - while rivals lose key players.
"It was always a difficult time," Chad Townsend remembered of his days at the Sharks. "We would be missing guys like Paul Gallen, Todd Carney and Luke Lewis, and obviously they leave a hole, especially in the big moments during games."
But the Warriors haven't always made the most of the opportunity.
This time last year, they sprang into action, winning five out of six games to become finals contenders. But in 2012, the period was fatal for the playoff hopes of Brian McClennan's team. Coming in on the edge of the top eight, they suffered costly defeats to understrength Sharks and Tigers teams, both coming before byes. It took the momentum out of their season, before their dramatic downward spiral in their final eight games.
In 2011, they lost four consecutive games sandwiched between their two byes and salvaged their season only by winning seven of their last nine matches. The eventual success of the 2010 season (the Warriors finished fifth, two points shy of second) was built on a solid Origin period, while the 2009 team sunk without trace after they won just two of seven games during that time.
This year is as important as ever. After this period, the Warriors have a tricky run-in to end the season, including games against the Roosters, Sea Eagles and a return match against the Broncos at Suncorp Stadium. Their final game is at Penrith - not the kind of place you want to go needing a win to make the playoffs.
"You don't want to look too far down the track but there's no secret where we are sitting on the table and we have to start stringing a few together," Simon Mannering said. "As usual, we started slowly this season and put ourselves in a difficult situation but we still need to take it one step at a time."
The Warriors also need to be wary of weakened teams. The Titans showed great fight last Saturday despite missing several key players, while the Baby Broncos added another famous chapter with their dogged win at Campbelltown.
Over the next few weeks, the Warriors could face Souths without Greg Inglis, Chris McQueen and Ben Te'o, Brisbane without their representative players and Parramatta sans Jarryd Hayne and Will Hopoate.
"It's not really relevant," Mannering said. "If a guy is not playing, there is someone else who has been given a chance and they are going to go hammer and tong to keep that spot."
The Warriors also welcome two byes over the next six weeks - a chance to bank some points and recharge physically and mentally. Teams can be vulnerable after a week off, though the new regime under McFadden will help keep them in shape.
"I don't think byes will be a problem this year," Lillyman said. "When we had the weekend off [during the representative round], Cappy [McFadden] gave us a few days off but, in between, really flogged us.
"I don't think there will be any rust coming out of a bye this year."