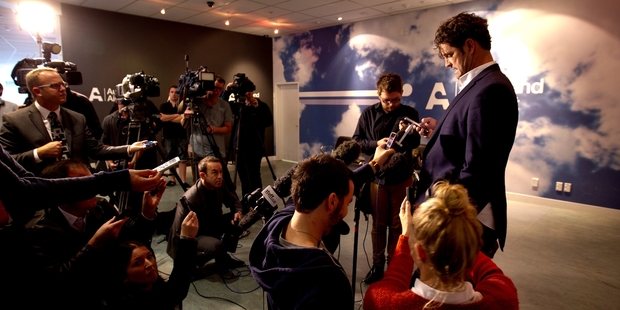 Chris Cairns' seven-minute statement yesterday was more than a show of defiance, it was a blow-by-blow outline of his legal position should charges ever be laid against him.
The former New Zealand allrounder flew back to Auckland from London yesterday, where he has been interviewed by the Metropolitan Police, the England and Wales Cricket Board (ECB) and the ICC's anti-corruption unit (ACSU).
The Met Police are investigating whether Cairns perjured himself in the London High Court during his successful defamation trial against former Indian Premier League boss Lalit Modi. The police, ECB and ACSU are also determining whether Cairns fixed, or co-opted others, to fix cricket matches for the benefit of himself and illegal bookmakers.
"I have never match-fixed, sought to have others match-fix, or otherwise played the game of cricket in anything other than the spirit it so richly deserves to be played in," Cairns said. "Over the last few years I have felt the influence of nameless, faceless people casting aspersions about me through the world of cricket and perhaps beyond...
I have said that there are dark forces at play here.
"The just-concluded trip to England has not persuaded me to think any differently."
Testimony and those who have testified against Cairns were disclosed to him and lawyer Aaron Lloyd on the trip. He has seen Lou Vincent and his ex-wife Elly Riley's allegations. He has seen Brendon McCullum's testimony, like Vincent and Riley's, leaked last week. He has also seen that at least two of Stephen Fleming, Daniel Vettori and Kyle Mills have corroborated that McCullum told them of an approach made by Cairns in 2008. And now Cairns is fighting back in a three-pronged attack.
First, he said, Vincent "has been caught cheating and seeks to mitigate his sins by blaming others. The allegations he and his ex-wife make against me are despicable lies."
Vincent has confessed to fixing. He has admitted to mental health and alcohol issues. Riley is not so easy to dismiss out of hand, but Cairns' team can argue that most of her testimony will have been based on hearsay from Vincent.
McCullum, the New Zealand captain who will soon be leading his side in the West Indies, is not going to be so easy to paint as an unreliable witness, unless Cairns can convince of a conspiracy around his testimony.
New Zealand Cricket might have handed him one.
McCullum alleges he was approached to fix in 2008, yet the evidence shown to Cairns and his legal team puts the date of McCullum's report to the ACSU as February 17, 2011, close to three years later.
Last week NZC chief executive David White, working on limited information, described the time lapse between approach and report as a "small delay".
Cairns' team will seize on this.
"Not only was this nearly three years after the alleged approach, but importantly it is 13 months before the trial, in March, 2012, of my case in the London High Court against Lalit Modi about match-fixing... It is extraordinary that Mr McCullum told the ACSU in February, 2011 that three years previously I approached him to match fix, yet neither he or the ACSU anti-corruption officer that took his statement, Mr John Rhodes, took that information to the ICC or informed Mr Modi or anyone else of this startling revelation."
In truth, there could be more mundane reasons for McCullum's delay - such as that he really did consider Cairns a friend and wanted to protect him for as long as possible.
Cairns had two other thrusts. One, there is no evidence of him being paid or having paid anybody. This could be a useful plank to any future defence, though it discounts the widespread "hawala" system of payment, which leaves virtually no trace of money changing hands.
Two, the other players mentioned are not testifying against him per se, but are simply agreeing that McCullum mentioned to them an approach.
With the allegations ranged against him, Cairns is in full discredit mode. Whether he has to use that in a court of law or an anti-corruption hearing remains to be seen. But Cairns showed yesterday that he is prepared for the worst.
"I find the manner in which this whole matter has progressed, and the limited information that has been provided to me until very recently, to be very disturbing. Knowing what I now know of these allegations against me, I find the situation truly absurd, bizarre and scary."