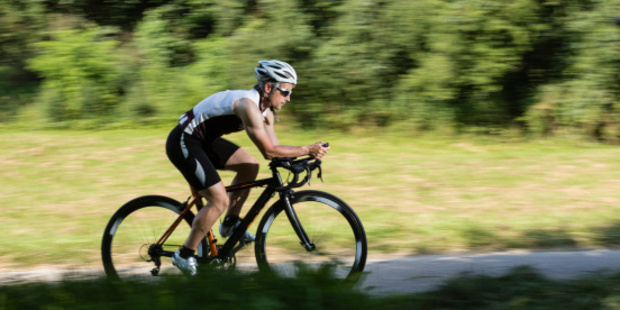 Kevin Pennell etched his name into the folklore of the Waihi Nugget Multisport Festival recently when he produced a superhuman effort because "he didn't want to let his team mates down".
The story began with a group of tradesmen from the beachside town, who were known as "Trade Night" and met regularly for a beer.
One of them suggested entering the local multisport event and it was game on. Two teams of four keen blokes signed up for the Full Nugget - a tough 78km road cycle, kayak, off-road run and mountain bike event.
Pennell, 44, admitted that with bragging rights at stake there was a bit of rivalry between the two Trade Night teams.
Chasing down his opposite with 7km to go, Pennell lost balance on his mountain bike and landed awkwardly on his ankle. He put weight on the joint and immediately realised there was something seriously amiss.
"My rear wheel steeped out a bit so I placed my foot down to avoid coming off," said Pennell, who is a second-dan black belt in freestyle karate.
"I rolled my foot and heard something pop. The instant pain alerted me that I had done some reasonable damage to my leg."
But that didn't stop him. Despite the pain, he completed the mountain bike event. His agony only just began as The Nugget concluded, with all four members of each team running the final 2.2km around the Martha Mine together.
Any sane person would have called it quits but with help from his mates, Pennell hobbled to the finish to the sound of cheers from the crowd. "I couldn't let my Trade Night team mates down," he said.
"They had worked hard in the sections before me so I just focused on finishing, really. I said to myself: 'Push the pain aside and focus on one section at a time to get through it.'
"I believe my martial arts background contributed to my focus of finishing and to remain on-task."
Pennell didn't let on to his teammates how much pain he was in. It was only after the race that they realised he was in serious trouble.
"I know we were all proud of our achievement. I've had a number of 'hard man' or 'legend' comments but I think any one of them would have done the same."
Reality has now set in for Pennell. Not only does he sport an impressive cast but he's also had to delay the start of a new business.
"The risk of possible surgery if I don't rest it is enough. It sure makes me rest up as I want to avoid any additional time off," he says.
"I guess it leaves me with a good opportunity to catch up on computer work for our new business venture."
Pennell has been likened to some of the famous hard men of New Zealand sport.
They include the likes of All Black Dick "Red" Conway, who chopped his finger off to ensure selection, Buck Shelford, who didn't leave the field despite a ripped scrotum, and Dean Lonergan who couldn't be stopped after being knocked out in a league test against the Aussies.
"They are all New Zealand legends so I don't think I can line myself up against these guys. Although the Trade Night crew won't say no to corporate box tickets if that's what's on offer," he says.
The Nugget was Pennell's first team challenge event and it has him hooked.
"We can't stop doing what we love just because of one small mishap, so I will continue to train mountain riding once I'm back on my feet."