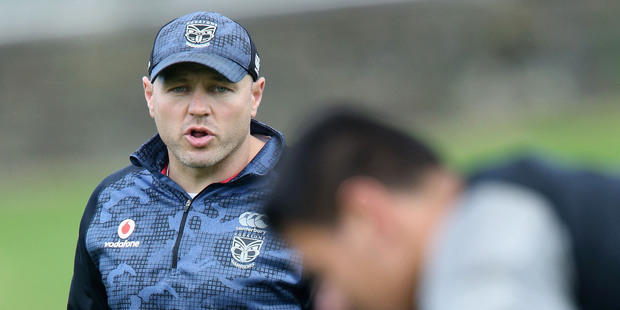 He doesn't look much like Jerry Maguire, but Andrew McFadden appears to share something in common with the fictional sports agent.
A bit like Maguire towards the end of the movie, the Warriors coach has his players in a trance. He had them at hello.
The turnaround at the Warriors in recent weeks has been incredible, highlighted by their improved attitude and engagement.
A few people have said to me McFadden has done "all right". He's done more than all right. I initially didn't think it was realistic for McFadden to deliver immediately but he has.
The Warriors have virtually halved the number of points they are conceding in each game, on the back of a vastly improved attitude to defence, and he's also made subtle changes in attack - like Shaun Johnson attacking out wider and Ben Matulino playing as a second-rower on the edge where he can do a lot more damage.
He's also taken a hard line on performance. If you're not up to scratch, you're gone. Just look at Dane Nielsen and Kevin Locke, and Feleti Mateo and Konrad Hurrell before that.
I thought Matt Elliott had that edge as a coach but clearly he didn't. Elliott was obviously talking a different language and the players didn't respond.
They are now.
It's why I can see only a Warriors win against the Knights on Sunday.
In the past, this might be a game the Warriors would lose. It's often said they lose games when people start getting excited about them and win when they're written off but there's something different about them under McFadden and something that has rarely existed at the club.
The players are working harder than I have seen before and working as a team and for each other which means their performances have been consistent.
The Knights won't be easy - the last four games between the two sides have finished within 10 points - but it's a game the Warriors should win.
They should also be excited about playing at home for the first time this season.
Mt Smart Stadium feels like a real league ground and the Warriors feel comfortable playing there. It's the opposite for opposition sides, who can't stand the venue with its industrial location and intimidating set-up.
I get the sense other clubs enjoy playing at Eden Park - it's close to town and where they are staying and is more modern - and it's reflected in results there. It was like when I was at the Roosters and we played at the Sydney Football Stadium. There was no real home advantage for us and we had to work harder to win.
I was staunchly opposed earlier this year to the impending move to Eden Park. To me, it seemed like the Warriors were giving up home advantage and not listening to their supporters and players.
But that was an emotional reaction to the situation and I have softened my stance. Unless the council and Warriors owners are going to put money into Mt Smart for necessary improvements, it's going to continue to deteriorate.
It's about future-proofing the business and Eden Park provides a better future. The Warriors are a strong brand and, if they start winning more often, then they will need to look at a bigger stadium anyway.
In the meantime, they could approach it a bit like the Breakers - Mt Smart is their home but they can play bigger games and playoff matches at Eden Park.