Struggling franchise looks West for answer at problem first five-eighths position.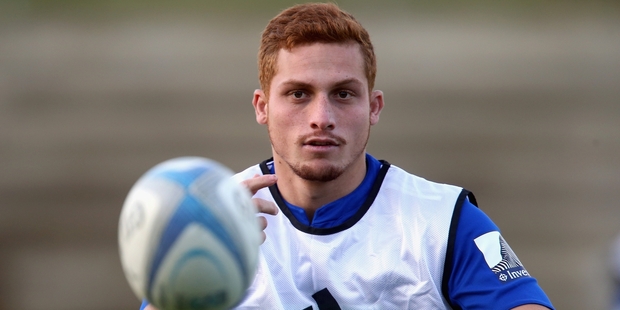 So there it is, finally a number to be proud of, a milestone number, the kind that comes with a key to the future and a yard glass of ale. It's number 21, or should that be he is No21: Ihaia West, the kid from Havelock North, the boy from the Bay, the red-headed - he calls it "auburn" - ringleader of the village clique. Ihaia West, the 21st first five-eighths to play for the Blues in the past decade. Raise your glasses and toast the greatest succession plan in the history of rugby.
Make no mistake, this is no dyed-in-the-Trelise-Cooper-wool Aucklander we speak of, oh no. This is a man from far fairer climes; a man from the spiritual home of moleskin pants and Aertex shirts; of tangy Syrah and stonefruit. He is, as a popular Auckland magazine would say, "a visitor from Hawkes Bay".
And now here is young Ihaia, the magpie magician on a mid-season call-up, ready to take on arguably the most threatening first-five currently on show in this year's competition, and in his first start for the Blues at that.
West has come north, to stop the Blues season heading further south. This isn't a selection decision; it's a course bearing.
We shouldn't really be surprised by the fact the latest addition to the Blues' halves roster is an out-of-towner. Auckland, after all, is a city of imports. We eat ethnic fusion food, drink wine from every region but our own, feel obliged to create a London-style underground in order to turn our inner city into a Danish-style cycling haven, and enjoy fireworks displays courtesy of German millionaires. We embrace diversity.
Personally, I believe it's wonderful the kid's having a crack. When you think about it, the ongoing audition process for the Blues' long-term leading man is one of sport's great unintentional soap operas. Only Keanu Reeves has suffered more consistent miscasting. When the Blues want an action star they get a dramatist, when they need a method actor they get a fall guy, when they require a player to thrill, they choose a vaudevillian. I'm waiting for a minstrel, or Cliff Curtis.
But we're not here to dwell on history. We're here to discuss Ihaia West! West is fabulous. West is the sort of player you can't catalogue, he's a library book judged solely on its cover, one that will not be Dewey-Decimalised. West is the number that is forever being miscalculated.
How do you begin to describe how he approaches the game? Put it this way: everyone knows what Simon Hickey will do, no one knew what Carlos Spencer would do, and only Ihaia West has any idea what Ihaia West will do. That's my kind of player. West makes you want to watch a game. Surely we could all do with a few more like him, even if many are surprised to see him in a Blues jersey.
West himself is a little surprised to be in a Blues jersey. In February he was almost a Chief. He says before his debut against the Reds he looked out to the middle of Eden Park, saw Will Genia and Quade Cooper, and thought, "What am I up to here?" I'll tell you what he was up to: running in long-range tries on cartoon-quality legs. When Ihaia West hits top speed you expect the same scenery to go past every 18 frames - he wasn't born, he was drawn by Hanna-Barbera.
Have you seen this guy's highlights reel? Seriously, two seasons ago against the Bay of Plenty he subbed in for the Magpies and set about carving off a spell of the most glorious, organic, backyard footy you'd ever hope to see. He scored the winning try in the 82nd minute. Last year he took on the line against Otago, and scored what would be the Shield-winning try after running an arc of such unnatural geometry that it will never exist in real time again.
Is number 21 the answer at No10? Or is this just another late-season casting call? I dunno. Hope may come before glory, but as the saying went, "Go West, young man."