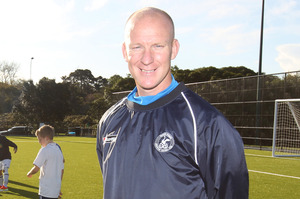 Interim All Whites soccer coach Neil Emblen is essentially facing a job interview tomorrow night but it's a job for which he has yet to apply.
With little on the line for either side during the All Whites' friendly against South Africa at Mt Smart Stadium, much of the interest surrounds the search for Ricki Herbert's successor.
Applications close tomorrow, giving 42-year-old Emblen one final chance to impress, even if his name isn't among the almost 100 applications New Zealand Football has received.
Former Australia coach Frank Farina was the latest to throw his hat in the ring, while Auckland City mentor Ramon Tribulietx has also expressed his interest.
Emblen, on the other hand, is focused on turning in one more impressive performance tomorrow night, although he hopes his body of work at NZ Football will be more influential than a mere 90 minutes of football.
"People see it as an actual, physical interview, but that's always happening," he said. "Any time I've done any job with New Zealand Football I've tried to be as professional as I can.
You're forever trying to present yourself well and do a good job. That side of it doesn't change."
The English-born Emblen has risen quickly through the ranks at NZF, having initially come here in 2005 to play for the ill-fated New Zealand Knights. After a successful stint as player/manager at Waitakere United, he coached the Kiwi Olympic team in 2012. He was also assistant for the senior side towards the end of Herbert's reign.
"Obviously it was a tough two years at the Knights but I was always learning about the game. I had a feeling that I might go into coaching but, obviously, the way that I've managed to be considered for roles has sort of amazed me."
One more promotion would be even more amazing for Emblen - especially if it arrives without submitting an application.
- APNZ