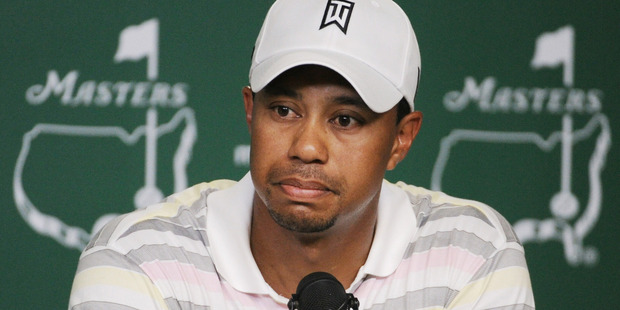 From the unfriendly tipping Tiger Woods to a beer vendor's amazing baseball catch, Daily Shorts looks at the light hearted side of sport.
Tight Tiger
ESPN columnist Rick Reilly has revealed that Tiger Woods, who earned $US40.8m last year, is pretty tight with his money. In an interview on late night talk show Conan, Reilly said:
"I've covered [Michael Jordan] his whole career, but I don't think he can hold a candle to Tiger Woods. You need a court order to get Tiger's wallet open. It's unbelievable. He's always like, 'I don't carry cash.' I know a valet here in town that stands between Tiger and his car just to get his $2. He's really terrible. I've seen Phil Mickelson buy a 50-cent cup of a lemonade from a little girl and give her $100. When he leaves the Masters each year, he gives the guys $2,500. Tiger gives them nothing. I was with Phil once, and it was raining. He sees a homeless guy, and he gets out, parks his car and gets out his umbrella to give to the guy. Tiger would charge the guy!"
Maybe the real reason Steve Williams left his former boss.
Rent Ronaldinho's place
Brazilian midfielder Ronaldinho is putting his Rio de Janeiro mansion on the rental market during the last half of the World Cup.
The two-time FIFA player of the year and 2002 World Cup winner, says on his Facebook page, "I am placing my house in Rio up for rent" and posts a link to the real estate agency handling the property, AP reports.
The agency says on its website that the five-bedroom house is available for the first 15 days of July for a whopping $US15,522 a day. Ronaldinho currently lives in Belo Horizonte, where he plays for that city's team Atletico Mineiro.
Pic of the day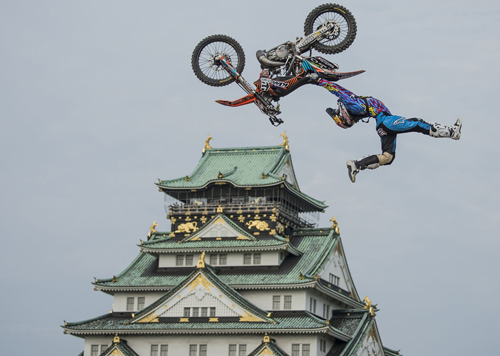 New Zealand's Levi Sherwood on his way to winning the latest 2014 Red Bull X-Fighters World Tour event in front of the Osaka Castle. Photo / redbull.com
Wrong kind of birdie
Golfer Jimmy Walker struck a bird with his tee shot on the 17th hole during the second round of the Crowne Plaza Invitational at Colonial. Walker managed to par the hole and ended up finishing tied for 10th. So no clear sign if it's good or bad luck to hit a bird.
Watch the video
Using his head
A beer vendor at a baseball game between the Philadelphia Phillies and LA Dodgers at Citizens Bank Park in the weekend created the highlight of the game after catching a foul ball in the beer bucket...on his head. Earl Chaney was just trying to get out of the way when the ball landed in the bucket - creating a huge cheer from the fans in his section. Hopefully Tui don't get any ideas for next summer.
Hard to swallow
Speaking of baseball, MLB hall of famer Ryne Sandberg has revealed to eat cat biscuits for a year when he was young...because he liked the crunch.
Joey Barton almost made a costly error following Queens Park Rangers' dramatic playoff win over Derby at Wembley. After booking their spot in the Premier League, Barton decided to lift QPR owner Tony Fernandes onto his shoulders and every nearly dropped the multi-millionaire.