Union's apparent lack of interest or disorganisation in signing Hurrell league's lucky break.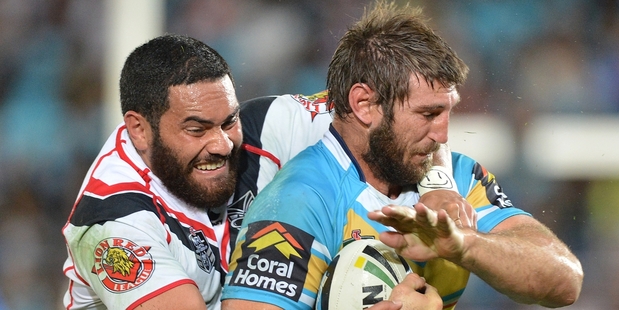 There's a "Tongan Thor" running around fellow schoolboys into the media's glare and a mad scramble for his signature.
The good news is you don't have to find the Sacred Heart first XV or scour the internet for Daniel Tupou because there is a real-deal Tongan Terror already destroying muscled-up adults in the NRL.
Warriors league centre Konrad Hurrell is the scariest ball-running back I've seen on a football field, more punishing than Jonah Lomu et al. If he wasn't so keen on chasing the dessert trolley around during the off-season, he'd be even scarier.
If Hurrell was a cigarette packet, there would be a picture of broken bodies on the cover. Hurrell does not have the mercurial power of Rupeni Caucaunibuca, nor the unbelievable feet of Roger Tuivasa-Sheck. There's no Bryan Williams sidestep, nor any hint of subtlety at all in the way he runs. What Hurrell does is not in the same league as the famous Jonah moments.
Hurrell is a full-steam-ahead, low-to-the-ground guy who goes straight through tacklers who are often dragged for the ride. He is punishing in the bone-crunching, muscle-smashing sense.
I've heard rugby insiders claim the former Auckland Grammar first XV midfield back would have struggled in professional union for some reason and who knows - maybe they are right. But the Blues were crazy for not giving Project Konrad Hurrell a crack.
Union's apparent lack of interest or disorganisation in signing Hurrell was league's lucky break. In the past league forwards with nicknames like Cement and The Axe damaged opponents with their tackling. The thing about Hurrell is he does similar physical damage when he has the ball.
Those set down to mark Hurrell must wake up on match day with a little lump in the throat, and wake up the next day with big lumps on the body. He is a one-storey inferno, a battering ram from hell. Every game contains classic Hurrell moments where tacklers go back way faster than they arrived. These brave troops set out to stop a runaway truck, and end up looking like the advertising signs on the side.
There were more of these pearls in the win over the Gold Coast Titans, although it was not Hurrell's most damaging performance. But there was a wonderful piece of finesse when he scooped up a tricky ball and passed in a heartbeat, giving his wing a try.
While covering league many moons ago, a couple of coaches reckoned Tongans were the strongest players they had encountered. I have no way of verifying that, or even imagining how you would verify that. But that is what they said, and coaches have good instincts for such matters.
Hurrell is strong beyond belief and built square. He is far from the perfect NRL performer yet but the signs under new coach Andrew McFadden are exceptionally good. If Hurrell keeps knocking allcomers down, and Shaun Johnson keeps running around them, maybe the Warriors will knock on the playoffs door.
Stadium of light
A tribute, to the purpose-built football stadium in Dunedin. Players respond to the buzz, and you need a great stadium to produce a great atmosphere.
The Forsyth Barr Stadium lifted the Crusaders v Highlanders match into a classic.
The following game on Saturday night between the Hurricanes and Chiefs, played in Wellington, was wildly entertaining but lacked true grit.
A utility ground does not work for the football codes. The bright yellow seats at Westpac Stadium worsen matters when too many are empty.