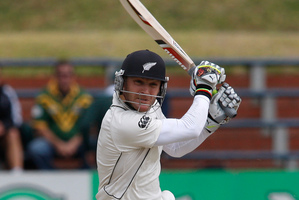 New Zealand Cricket chief executive David White will hold talks with the ICC as the match-fixing saga continues unabated.
White was "dismayed" to read Brendon McCullum's testimony in the media this morning, after the New Zealand captain had given his evidence in confidence to anti-corruption investigators.
That testimony was been leaked to cricket corruption expert Ed Hawkins, the author of Bookie Gambler Fixer Spy, who first published it in the Daily Mail.
"New Zealand Cricket is dismayed that Brendon McCullum's testimony to the International Cricket Council has been leaked to the media. We can confirm that Brendon is not under investigation by the ICC and his testimony has actually been applauded by them," said NZ Cricket chief executive David White.
"We believe what Brendon has done is brave and courageous. He's done the right thing."
White made the response after there was a suggestion McCullum might face sanction for not immediately reporting an approach.
"My understanding is that there were two approaches and there may have been a small delay [in reporting them]," said White.
"That has been canvassed by the ICC and they were very comfortable with it and in fact applauded Brendon's [conduct]."
McCullum's testimony has provided further evidence of just how pervasive the threat of fixing is in cricket.
McCullum met somebody he described as his "hero" in the lobby of a hotel on the eve of the inaugural Indian Premier League to discuss a business opportunity. This player explained to McCullum the intricacies of spread betting. McCullum was told he could secure up to $210,000 per game.
"I was really shocked as I saw (blank) as a good friend and it totally confused me," said McCullum in the leaked testimony.
McCullum was told to use the money earned to buy property in Dubai. When sold later the money could be passed off as profit made on property deals. When the player called later, McCullum told him he was not interested.
A short while later, while New Zealand was on tour in England, the same player met with McCullum in a Worcester cafe to see whether he would change his mind. He had not.
White said he all for a transparent investigation, but has reservations about how the information is coming to light.