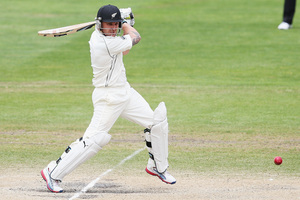 New Zealand Cricket have released a statement this afternoon to express their dismay that Brendon McCullum's testimony to the International Cricket Council has been leaked to the media.
"We can confirm that Brendon is not under investigation by the ICC and his testimony has actually been applauded by them," the statement read.
"NZC has 100 per cent confidence in our captain and his role in tackling corruption."
Details of the match-fixing offer made to, and rebuffed by, the New Zealand captain have been leaked to media.
The approach, first reported by the Herald on Friday, is part of the ICC's investigation into match-fixing.
McCullum was interviewed recently by the ICC's anti-corruption unit and, according to cricket corruption expert Ed Hawkins in the Daily Mail, has testified that he was offered more than $200,000 to fix games.
He met a "former international star" in a café in Worcester while on tour with New Zealand in 2008, when the offer was tabled. According to testimony, the former star said that "the big boys" in international cricket were doing it.
McCullum has also revealed that he was first approached in Kolkata during the 2008 IPL and asked the cricketer how the mechanics of it worked.
"Using the piece of paper X explained the basic principles which were to score below a certain rate for the first six or so overs and then towards the end of the game there was another split. X told me he had done this himself," said McCullum, according to testimony.
"[He] told me that potentially he could get for me from between US$70,000-US$180,000.
"X told me he had a good group working for him in the ICL and I understand this to mean fixing for him. It was my opinion then, as it is now, that X was actively concerned in fixing... I believed he was asking me to do the same thing for him in the IPL as others were doing in the ICL."
McCullum was told he could launder the money through property deals in Dubai. The name of a contact was provided.
Once McCullum had rebuffed that approach, the same cricketer then cornered him in Worcester to ask him if he had changed his mind.
"He was a hero who became a friend so I always found it difficult to say no," McCullum told investigators.