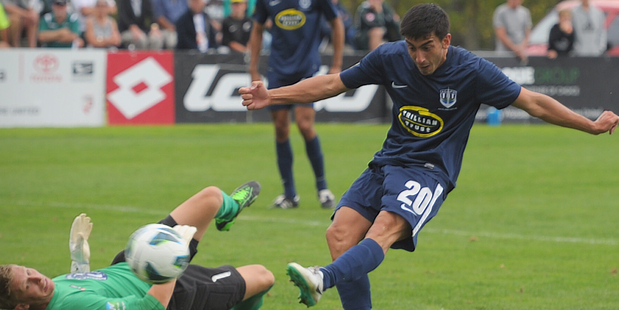 Auckland City 2
Amicale 1
Auckland win 3-2 on aggregate
When Auckland City striker Emiliano Tade smashed home an 87th minute winner to beat Amicale in the OFC Champions League final today, he had 500,000 reasons to celebrate.
That is the minimum amount (in US dollars) that will filter through New Zealand football as a result of his stunning 20-yard half volley which sent Auckland to their fourth consecutive FIFA Club World Cup.
The Argentinian striker celebrated by ripping off his shirt in elation and was quickly swamped by team mates who knew they were heading back to the world stage. It also allowed the Auckland City and New Zealand Football moneymen to breathe a sigh of relief, because for most of the game it looked like the hosts wouldn't see a cent.
Amicale knew how to beat Auckland. They did it last month in the OFC qualifying tournament in Fiji and they really should have done it again today.
The Vanuatu champions led 1-0, missed a penalty, hit the post and had three glorious second half chances to put the match to bed when the score was 1-1, but a combination of lackadaisical finishing and brilliant goalkeeping kept Auckland in the hunt.
Amicale needed someone like Tade. The ASB Premiership Golden Boot and O-League Golden Ball winner can create something out of nothing, and his snap-shot from a cushioned Ryan De-Vries lay off on the edge of the area was worthy of the rich rewards.
Auckland were incredibly lucky not to be down to ten-men after 26 minutes when Ivan Vicelich chopped down nippy Amicale striker Sanni Issa in the box. He was the last man and it was a clear goal-scoring opportunity but the Tahitian referee only deemed it worthy of a yellow card.
Auckland City goalkeeper Tamati Williams produced a world class save from the resulting spot kick as he dived low to his right to tip a powerful shot from Colin Marshall around the post.
But on the stroke of halftime Amicale had the lead when Kensi Tangis darted in front of Vicelich to clinically head home a well weighted cross. Auckland equalised from a set piece in the 66th minute when De Vries hammered home a half-cleared free kick.
With tensions high Amicale striker Nikola Vasilic had two easy chances to win it, but put a header over from six yards and a shot wide from ten.
Auckland City coach Ramon Tribulietx said the final was the toughest match they have played this season.
"The message at halftime was about belief and believing." he said. "We knew we could come back from the deficit. We have played some tough games in the Champions League but this would probably be the toughest. They are a fantastic team full of professional players."
Auckland will now travel to the FIFA Club World Cup in December where they will meet the Moroccan national league winners in a play-off to make the quarter finals.