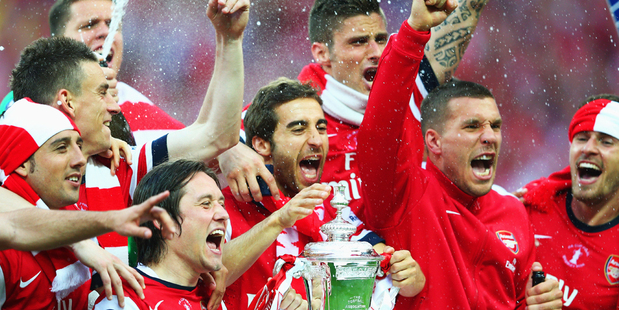 After nine years' wait for a trophy it was inevitable Arsenal would leave their fans waiting an extra 30 minutes before finally claiming the FA Cup yesterday. None were complaining however after the Gunners fought back from an early two-goal deficit to take the tie into added time before Aaron Ramsey broke Hull City's spirited resistance.
Faced with the fashionable competition of La Liga's showdown in Barcelona, and the local one of Hull v Hull KR in rugby league's Magic Weekend, the oldest competition of them all conjured a magnificent final.
After Hull took a 2-0 lead inside eight minutes, James Chester and Curtis Davies scoring, Arsenal clawed their way back to force extra-time through Santi Cazorla and Laurent Koscielny.
Hull were in the fourth tier 10 years ago. Arsenal, 10 years ago, were celebrating their third League title in eight years. Few could have imagined then the near-decade of frustration which has followed.
The one constant has been Arsène Wenger and he is still taking decisions based on principles. So Lukasz Fabianski was chosen to keep goal yesterday because he has done thoughout their FA Cup run, this despite Wojciech Szczesny being the No.1 and Fabianski expected to leave the club next month having not signed a new contract. Wenger did, however, restored Olivier Giroud to the attack having preferred rookie Yaya Sanogo for the semi-final.
Joining Szczesny among the substitutes was Jack Wilshere, not deemed fit to start. Alex Oxlade-Chamberlain, another one of Roy Hodgson's World Cup 23, was not even on the bench.
The most difficult decision of Steve Bruce's career, was solved by the Hull manager opting for a three-man defence. This enabled him to include James Chester, who passed a pre-match fitness test, and his son Alex Bruce. The surprise choice was Stephen Quinn, a goalscorer off the bench in the semi-final. Quinn played just behind lone striker Matty Fryatt with instructions to prevent Mikael Arteta dictating play for Arsenal.
For 15 minutes every one of Bruce's selections came off more perfectly than he could have dared dream. Inside five minutes his team were two up with Quinn involved in both goals and the trio of centre-halves making and taking them. Three minutes had gone when Ahmed Elmohamady went down the right and his cross was deflected for a corner. Quinn pulled that back to Tom Huddlestone, lurking unmarked on the edge of the box. His volley was mis-hit and going wide when Chester, adjusting his feet quickly, turned it past Fabianski.
Five minutes later a half-cleared free-kick came out to Quinn who cleverly made space to cross. Bruce rose highest, his header glanced off Kieran Gibbs and onto the post. As Arsenal scrambled to react Davies lashed home the rebound.
Arsenal's support was stunned, Hull's in dreamland, and a watching nation gripped. Five minutes more and it was nearly 3-0 as Arsenal's frailty in the air was shown again. But this time Gibbs headed Chester's header from Huddlestone's corner off the line.
It was a crucial stop for, three minutes later Bruce ploughed through the back of Cazorla just outside the box. The Spaniard got up to whip the free-kick past Allan McGregor and it was game on. Now it was a test of Hull's character as well as Arsenal.
The game now adopted the anticipated pattern: Arsenal in possession, Hull harrying and seeking to attack on the counter. At this point the 5pm kick-off grew in relevance. Bruce will not have been pleased yesterday morning to see a the glorious sunny day. Great for FA Cup barbecue parties, not so good for those players detailed to chase Mesut Özil, Aaron Ramsey and Cazorla across Wembley's broad acres. Yet while it had cooled slightly, and clouded over, it was still a muggy afternoon.
With the disappointing Özil mis-kicking when Lukas Podolski set him up close in Hull weathered the immediate storm and made it to the break with their lead intact. They might have restored it to two goals had Fryatt not been harshly penalised for brushing aside Koscielny as he bore down on goal shortly before the break.
Arsenal took a while to get going in the second period as Hull began to break up the game. But Sanogo's introduction gave Giroud much-needed support in his scrap with three centre-halves. One of them, Bruce, then departed injured. Another, Davies, was fortunate not to concede a 69th-minute penalty when Cazorla's feet were too quick for him. Finally the pressure told. Arsenal were erroneously awarded a corner, Sagna's deflected header fell to Koscielny, and he turned the ball past McGregor like a striker.
Hull withdrew even deeper. Arsenal pressed. With 12 minutes left they should have taken the lead but Gibbs perpetrated the worst FA Cup final miss since Gordon Smith in 1983, blazing over after Sanogo's cross reached him eight yards out.
- Daily Mail