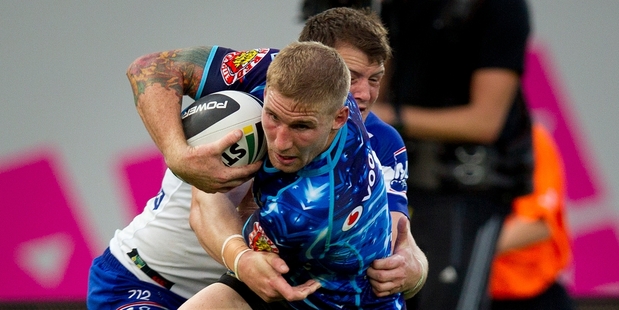 Maybe it's time to believe the hype about Sam Tomkins. Maybe, after a mixed start, he is showing signs of why the Warriors broke the bank to sign him. Maybe the naysayers, include many media pundits, were wrong.
He's not yet the tryscoring whiz that we saw in Super League - and may never be, given the tighter NRL defences - but he could develop into one of the best all round fullbacks in the club's history.
Tomkins' recent displays against Melbourne and Canberra were top notch. At Eden Park last week he threw either the penultimate or last pass for four tries and scored another. For two other touchdowns he was backing up, poised on the shoulder of the eventual try scorer.
It's the kind of involvement that Billy Slater is famous for, the kind of prototype fullback the Warriors decided they needed. Against the Raiders Tomkins touched the ball 40 times, virtually the same amount as halves Shaun Johnson (44) and Chad Townsend (42). In Melbourne it was a similar story; Tomkins received the ball on 54 occasions, compared with Johnson (58) and Townsend (52).
"The fact that he is always there - on the back of passes and stuff - is just what we needed," says Ben Matulino. "He is a lot fitter than I thought he was and he has got the X- factor as well."
Tomkins made an unhappy start to the season, in a faltering team. With an intense focus on him every blunder was highlighted - and there were a few - and commentators also wondered why he couldn't stay on his feet.
"When I first came I was a bit anxious," says Tomkins.
"There was a lot of pressure from everywhere. I wanted to come and impress and I probably didn't - I didn't play my best rugby for some time. I wasn't playing great at the start and [that] was disappointing. I wasn't miles off but now things are going better."
The pressure has eased, and seeing Tomkins in the number one jersey no longer provokes mass debates.
"It's come a long way," says Tomkins. "I don't get asked the same questions any more ... people saying 'what is it going to be like?' 'Are you going to be able to play with Shaun Johnson?' ... all those things have quietened down now so I can get on with my job."
That job has been as much about creation as destruction. His tip pass to set Konrad Hurrell free against the Raiders was a sublime piece of skill, as was a cut-out ball to Manu Vatuvei at top speed. The Raider's defensive line was a mess - and there will be much greater tests, starting tomorrow against the Bulldogs - but his play-making potential is unquestioned.
"You could see that ability as soon as he came in," says Townsend.
"It wasn't easy when we weren't going so well but everyone is starting to see it now. My main job is to direct the team around and make sure those two freaks [Johnson and Tomkins] get plenty of ball to do their stuff."
The Bulldogs loom as formidable opponents - with the NRL's third best attack (35 tries) and the most frugal defence (19 tries conceded, Warriors have conceded 35) - but Tomkins is confident the Warriors can upset the competition leaders.
"They are very good but not unbeatable by any stretch," says Tomkins. "[In round six] we were quite good but we played dumb at times and gave them opportunities; you can't give a team as good as them extra chances. We could have been a lot better on the day - hopefully it will be different [tomorrow]."