Teams losers of Fifa bus slogan contest, and homophobe's tweet excuse tests credulity.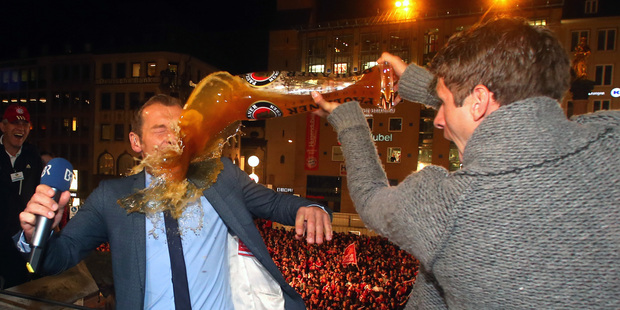 Fifa unveils outrageous slogans
With the World Cup right around the corner, final preparations are under way in Brazil, teams are picking their squads and players are starting to prepare themselves for the tournament. If any of those players need additional motivation next month, the simple act of leaving the team bus should provide that in abundance. Fifa has revealed the results of a competition it ran to provide a slogan for each of the 32 team buses at the World Cup and, boy, some of the winning choices truly do send a shiver up the spine. Our good friends across the Tasman cannot help but be inspired when they ride in a vehicle adorned with 'Socceroos: hopping our way into history!', while Chile's players will surely have to hold back the tears when they look upon the rather nonsensical "Chi Chi Chi! Le Le Le! Go Chile". On the other hand, Japan's is pretty cool - "Samurai, the time has come to fight!"
Not so happy Wayne
Supershorts was happy to run into old cobber Wayne Scurrah, Warriors chief executive, at lunch in a central city eatery yesterday. Seems Scurrah wasn't quite as thrilled, immediately asking to change tables when he saw a media presence lurking. Ouch, Wayne, that hurts.
Unbelievable excuse
After the St Louis Rams drafted Michael Sam and made him the first openly gay player in the NFL, ESPN's Sportscenter ran a clip showing Sam overcome with emotion and kissing his boyfriend in celebration of being selected. Predictably, the footage didn't sit too well in some of the less enlightened corners of the internet, including among a couple of Sam's fellow athletes. What was a surprise, though, was one basketball player's excuse for his homophobic tweets. Former Ole Miss basketballer Marshall Henderson caused an uproar when he tweeted that he was boycotting Sportscenter's show after it showed Sam embrace his partner but, following the subsequent backlash, Henderson came up with a novel excuse for his intolerance. "One of my best friends, WHO IS GAY, is about to graduate in psychology, asked me to say these things so he can have responses," he wrote. "The point of his study was to see how people react when others say things or act a certain way against another group of people ... TBC."
Riiight.
NCAA follies
It's been a typically tough week for the NCAA. The organisation in charge of United States collegiate sports is often ridiculed for the trivial rules and regulations it enforces to ensure no student/athlete receives the slightest benefit while still in college. First there was the story of Boise State football player Antoine Turner who, after a rough upbringing, was living on the streets during the offseason. Boise State fans heard of Turner's plight and the offers of assistance rolled in, only for the school's NCAA compliance officer to warn that the aid could fall under "impermissible benefits". After receiving national attention the NCAA allowed Turner to accept any help, before turning its attention to more important matters, like Oklahoma football player Gabe Ikard. Having left college to pursue the professional game, Ikard revealed the NCAA made him and his girlfriend sign affidavits declaring their true love. Why? Well, Ikard's girlfriend owns courtside seats at Thunder games and regularly takes the centre to games, leaving the NCAA to wonder whether the relationship was just a sham to get him basketball tickets rather than true love. As Ikard told the compliance officer, "She just likes big guys, just accept it." The university insists it is standard protocol.