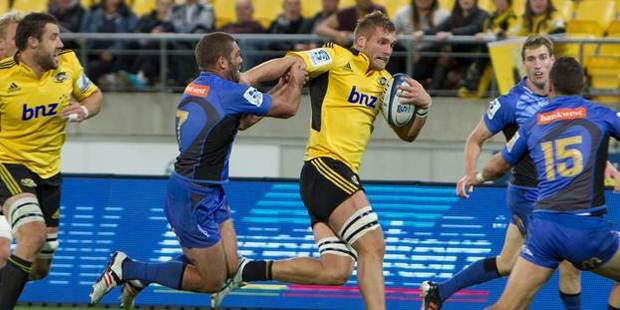 From two seasons in the All Blacks' wider training squad to fighting for a place on the Hurricanes bench, it has been a tough run for Brad Shields.
A serious injury suffered before the start of this year's Super Rugby campaign, where he tore his medial collateral ligament and dislocated his left kneecap, has left the loose forward scrapping to return to full fitness.
He came off the bench for 15 minutes against the Bulls in Napier last month but tweaked the same knee again in training a few days later and has been forced to watch the Hurricanes' other loose forwards play some of the best rugby of their careers.
Blindside flanker Faifili Levave has resembled a human wrecking ball this season, Jack Lam looks like he is everywhere on the paddock, Victor Vito is a menace in the lineout, while everybody wants to see more of Ardie Savea.
Shields, who has trained with the national squad during the past two years, has been named as one of six forwards on the Hurricanes' bench for tonight's outing against the Highlanders at Westpac Stadium.
Hurricanes coach Mark Hammett was mindful of the Highlanders' physicality at the breakdown when selecting his bench and it's a luxury option to be able to pick a player of Shields' quality in the reserves.
"He was never forgotten from our perspective," Hammett said of Shields. "He just wasn't available. We feel he's fit now, so he's ready to go.
"We've got a healthy respect for the Highlanders and the work they do right across the board in the contact areas. So we don't expect [tonight] to be any different and we are pretty proud of where we've got to on that side of it with our workrate, body position. So I think it's going to be a hell of a battle, actually."
Shields played a game for the Hurricanes Development XV recently and was on stand-by to join the bench for their 25-15 victory in Melbourne last Friday but wasn't required.
"It's been a long process," the 23-year-old said of his return.
Coming back into a competitive loose forward mix is a challenging prospect but Shields said he wanted to prove he was worthy of receiving more game time.
"It's healthy competition. I'd rather the boys have been playing well than just getting chucked straight back in there. I'm happy to fight for my spot."
Shields' young career has been littered with other ailments and, despite also having had work done on his right knee in the past, he didn't feel he was injury-prone.
"It's just a couple of those unlucky injuries," he said.
"That's what you get in rugby and, hopefully, that's my couple of injuries and, touch wood, I don't get anymore."
Tonight's game takes on notable significance given both teams are hovering around the fringes of the play-offs on 30 competition points.
The Hurricanes have five games left, all against New Zealand teams while the Highlanders have six.