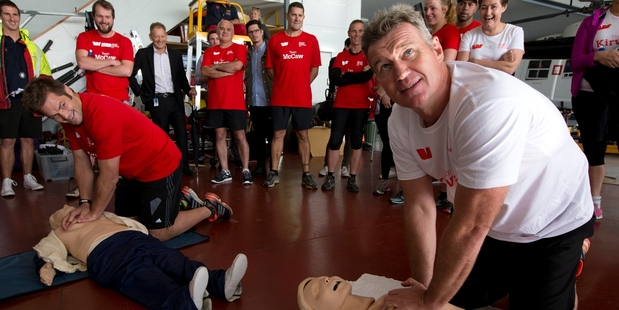 All Blacks captain Richie McCaw and Blues coach Sir John Kirwan went head-to-head yesterday in a charity fundraising competition based on the real-life challenges faced by helicopter rescue crews.
McCaw and Kirwan led teams made up of winners from a nationwide Facebook competition, completing challenges such as helicopter underwater escape training, CPR drills, rope-climbing, a simulated winch rescue swim, 3.3km run and a stretcher run. The showdown involved two hours of physical and mental challenges chopper rescue crews deal with on a daily basis to help raise awareness about this month's Westpac Chopper Appeal.
"It was full-on and testing, and we were definitely put through our paces," Sir John said. "I think both teams left with respect for what a hard-working and vital service the rescue helicopters provide [to] New Zealanders.
"We were pushed outside of our comfort zones and had to work together as a strong unit, which is exactly what the crewmen do with every rescue."
Team Kirwan won 4-2, winning a dinner with Sir John and Richie at an Auckland restaurant.