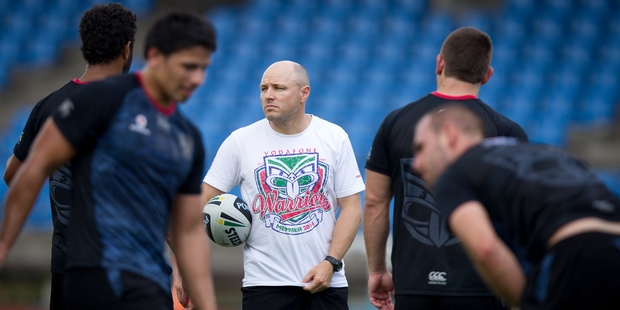 The Warriors have a chequered history with rookie NRL coaches but see little risk in appointing Andrew McFadden to a long-term deal.
McFadden, who was given an interim role after the exit of Matt Elliott in March, was yesterday confirmed as coach of the Auckland franchise until the end of the 2017 season.
It's a huge show of faith in a 36-year-old with only four NRL games under his belt as head coach, especially when you examine the Warriors' record with coaches new to the NRL.
Despite their success with the Kiwis, neither Frank Endacott nor Brian McClennan could get the Warriors to the playoffs. Mark Graham struggled with a threadbare squad (his best finish was 11th) while Tony Kemp tanked when he stepped up from assistant.
On the plus side, the unproven Daniel Anderson took the team to the playoffs on three of his four seasons, including a grand final. Ivan Cleary was the other coaching rookie who rocked, missing the finals only twice in his six-year stint and reaching the 2002 grand final.
The club sees real potential in McFadden - the kind of guy who could usher in a Cleary-like era of success. He made an instant impression as assistant and the Warriors' swift axing of Elliott this season was probably because they knew they had a capable man waiting in the wings. McFadden has also earned the players' respect - it's no coincidence that a slew of contract renewals have been announced since he became coach.
And NRL standard coaches, like dynamic Labour MPs, are relatively scarce. If not McFadden, the club would have gone to a veteran (like a Tim Sheens), another rookie (like a David Kidwell) or a Super League coach, all of whom would bring with them their own levels of uncertainty. The four-year deal is a gamble but may be a wise one.
McFadden didn't push for a longer deal - "I'm a rookie coach ... there is not a whole lot of negotiating power there" - but his value will only increase if he gets results. Such a term allows him to do some genuine long-term planning and put his imprint on the club.
"It gives me security and a little bit of weight to really instil some standards here," says McFadden. His sudden elevation reflects the strong impact he has made in a short time.
During his brief tenure the team have rediscovered their defensive discipline (conceding an average of around 16 points a game, compared with more than 28 points) - a direct result of the increased focus on defence on the practice field.
"He's instilled a lot of discipline around here which is what was needed," says Sam Tomkins, "We were falling down with the 1 per centers and that is where it counts."
Training sessions are much more intense, there is more work under fatigue situations and more game simulations.
"It's about demanding more from them as a group," says McFadden.
"There was a lot of room to improve and intensity was a huge one. Unless you train intensely you won't get it on the field."