The Women in League round has the players in pink, but what about sequins? And more cheerleaders?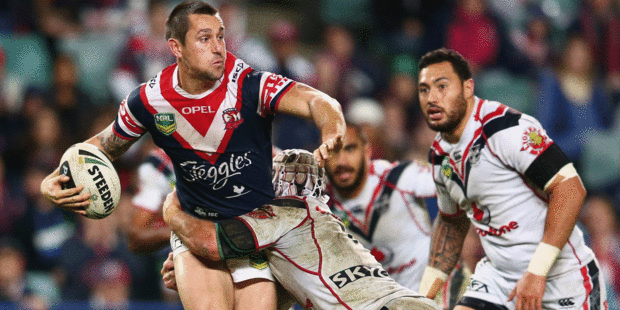 From: NRL HQ
To: NRL club CEOs
G'day lads (oh sorry, you too Raelene),
Right, so the Women in League round is upon us - the week when the players don pink jerseys to salute the servitude and sacrifice of those women to allow men to play the greatest game of all. Incredibly in the past we've come under a bit of criticism for this noble gesture. Some claim the round is just a patronising PR stunt and we don't really value women in our game, which is disappointing as I have the utmost respect for the ladies of league. I'll never forget Bev, our brilliant team manager from the Kununurra under-9s - her wonderful knack for getting grass stains out of shorts has stuck with me to this day. But I take their feedback (read: whingeing) on board and this year we simply need to do a better job of reminding everyone how much the code values and appreciates its female fans, volunteers and members.
Here's a few pointers to make this year's round a success:
1. As we all know the round is about celebrating women in our game, which is why we have the favourite son award. On top of all the other accolades handed out to the players, we thought just being a decent bloke is also worthy of recognition in our game. This year we have high profile nominations like Mitchell Pearce, who this week made a late lunge for the prize. We need to promote these fine young men and all the good work they do in making the game more appealing to women.
2. The pink jerseys have been a wonderful tribute to women. After all, girls love pink (and Tupperware) - it's a scientific fact. But clearly that hasn't been enough to satisfy the ladies, so this year we need to go bigger and bolder. Raezor, this is more your area of expertise, but how about sequins? I'm told girls love that sparkly stuff. Or bows possibly. Bedazzle the jerseys and the girls will flock to the ground like magpies. No, not those Magpies - we got rid of them.
3. For too long all the men have been getting the glory, while the women's competition has been virtually ignored. This is absolutely shameful and has to change. Big League magazine have been giving women in the game great visibility through their "cheerleader of the year" competition, and we need to do the same. Get out there and promote your cheerleaders and their achievements. By the way, we've got the integrity unit looking into why Tiffany from the Titans cheer squad lost out to Amber from the Sea Eagles the other week. I mean Tiffany is stacked, and I have a strong suspicion the votes might have been as well (geddit!? boob pun). We obviously must let the investigation run its course, but this will send out a strong message that we are taking the women's competition seriously.
4. Unfortunately in previous years our efforts to honour the women in league have been overshadowed by unsavoury off-field incidents involving violence and other funny business. It's completely out of our control obviously, but the game can't afford any more embarrassing incidents like that this week. Put all your players on notice: it only takes one innocent bum tap to give the game a bum rap.
Righto, that's about it. I know it's a lot of work but it is important we put in a big effort for a week.
Regards,
Bossman.