Emerging younger riders and combinations at Badminton augur well for future.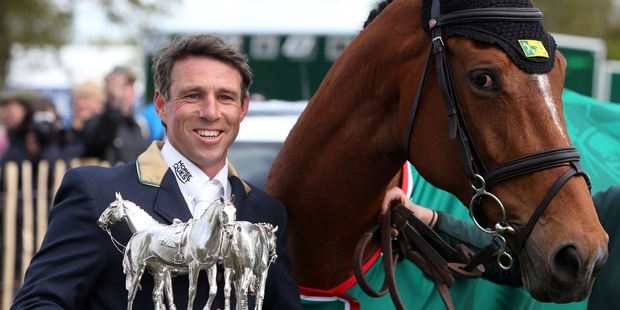 No Mark Todd or Andrew Nicholson at the sharp end of the Badminton event this time, but there was reason for satisfaction for those overseeing the elite group of horses and riders with the World Equestrian Games later this year in mind.
While Todd and Nicholson ran into problems on the gruelling cross country course in Gloucestershire - Todd managing 14th on Leonidas II, but Nicholson's two entries, Nereo and Quimbo, failing to finish the cross country stage - the unheralded Tim Price and Lucy Jackson put their hands up to enter the World Games mix for Normandy in August.
Price, on Ringwoodsky Boy, was second going into the deciding showjumping phase yesterday but dropped four rails to finish ninth.
Jackson, on Willy Do, was 11th.
No other New Zealand combination completed the event.
"Obviously some of our more renowned combinations were probably disappointing, but Tim and Lucy had a great weekend and are really stepping up," Equestrian Sport New Zealand high performance boss Sarah Harris said yesterday.
Australian Sam Griffiths, fifth after the cross country, was the surprise winner aboard Paulank Brockagh and becomes the sixth Australian to claim eventing's most celebrated title. He pocketed about $158,000.
Overnight leader Paul Tapner, of Australia, knocked over four rails aboard Kilronan to finish fourth. Had Price dropped even two, he would have become New Zealand's third Badminton winner after Todd and Jock Paget.
New Zealand will send a team of four plus two individuals to Normandy in August. Price and Jackson haven't hurt their prospects.
"Both of them were at Pau [another four-star classic] in France last year and had done well there, so really this cemented that they are ready to step up to the next level," Harris said.
"It's really nice to see we are not relying on the same names again. We're actually seeing younger riders and combinations coming through. For the future it bodes really well."
The next four-star event is at Luhmuhlen in Germany from June 12-15. It was won last year by Nicholson and Mr Cruise Control on his march to the world No 1 rider ranking. His stumble at Kentucky last month cost him top spot and he now sits second behind England's William Fox-Pitt.
New Zealand are likely to split their resources between Luhmuhlen and a three-star event at Bramham, north Yorkshire from June 5-8 - or as Harris calls it, a "three-and-a-half-star" trial.
"We won't get them all into Luhmuhlen but both are really good competitions in terms of selection."
The suspended Jock Paget has his hearing over the positive test returned by Clifton Promise at Burghley late last year on June 3. "Fingers are definitely crossed he'll be available for selection," Harris added.