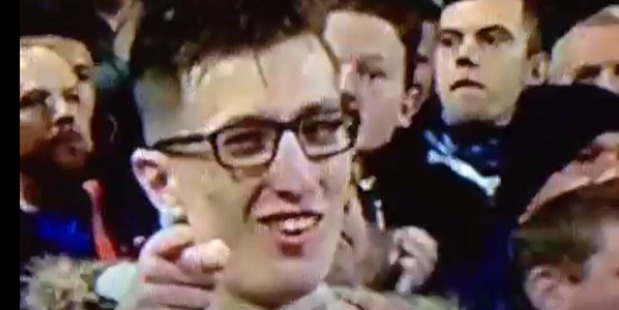 From the smoothest football fan in the world to a baseball fan nearly losing his head, Daily Shorts looks at the light-hearted side of sport.
This Manchester City fan is the smoothest football supporter ever
Going out with a lover of the beautiful game is never easy, especially if you don't like the sport, but how could you resist this guy?
May 7, 2014
The Manchester City supporter was pictured during the club's 4-0 victory over Aston Villa at the Etihad Stadium.
While most were busy being drenched by the pouring rain, the fan looked composed and cool - as he pulled off a cheeky little move, probably to all the ladies out there.
What a guy.
Good question
Who has the best licence photo @BrodieRetallick @liamsquire6 @LiamMessam or Bigs ?????? pic.twitter.com/bGVKthWBYj

— Liam Messam (@LiamMessam) May 8, 2014
The life expectancy of a football fan
If you're not a fan of Crawley Town, then maybe you should change allegiances. A BBC study has found that fans of the League One side have the highest life expectancy of 81.82 years. Birmingham City meanwhile are down the other end of the scale just ahead of Liverpool fans who may have lost a few more years in the last two weeks.
A bet's a bet
A Swansea fan has promised to swim the English channel if new manager Garry Monk is still at the club at the end of his new three-year contract. James Hammett-Burke posted a signed bet on Twitter after Monk signed his new contract.
So this has just happened.. #SWFC #GaryMonk #Channel @JamesHB_ pic.twitter.com/5Kuw296dHj

— Aaron Ramsey (@AlxDnvn) May 7, 2014
Great intimidation tactic
The Portland Trail Blazers got the shock of their life when entering the visitors lockerroom ahead of their playoff game against the San Antonio Spurs. Forward Thomas Robinson discovered a rattlesnake in his locker.
"Man we was scared as hell," Blazers guard Mo Williams wrote on Instagram.
The State animal of Oregon is the beaver, so maybe Tim Duncan will find one of those in his locker ahead of game three on Sunday.
The rattlesnake was in Thomas Robinson's locker when the team arrived.

— Casey Holdahl (@CHold) May 8, 2014
And finally,
Check out just how close this baseball fan came to losing his head during an MLB game this week.