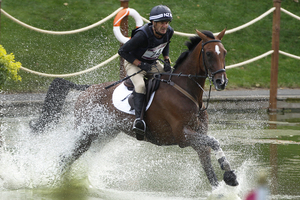 Ace eventers Andrew Nicholson and Mark Todd are expected to be strong chances to secure another New Zealand victory when the Badminton horse trials start tonight (NZT).
The champion Todd, a four-time winner at the prestigious event in Gloucester-shire, has two entries. Both NZB Campino and Leonidas II are having their first start at Badminton, but double Olympic champion Todd is confident.
"I rate them both very well and they are capable of placing in the top few," he said.
Nicholson, in the form of his life and world No 1 eventer, also has two horses lining up, 11-year-old Quimbo, making his Badminton debut, and 14-year-old Nereo.
Last year, Nicholson and Nereo were third by just 0.5 penalty points at Badminton.
Victory would get a monkey off Nicholson's back. He's never won at Badminton - in stark contrast to his four Burghley titles at England's other four-star classic - but has a record of high achievement. At Badminton, he has a record 33 completions of the cross-country course.
"Nereo, you would have to say, is the hardened experienced one of the two and is so consistent. Quimbo has been a winner but just doesn't have that experience," Nicholson said.
"Quimbo has done two four star events last year and should be quite capable but whether he is fast enough ... we will see."
New Zealand has a large contingent of riders competing.
They include husband and wife team Tim and Jonelle Price, who have three horses between them, all making their Badminton debuts.
Megan Heath on St Daniel will be keen to improve on their 44th place last year, while London Olympic team bronze medallist Caroline Powell was 21st aboard Onwards and Upwards and is chasing a better finish.
Lucy Jackson and Willy Do, Annabel Wigley - in her first Badminton start - on Frog Rock and Neil Spratt on Upleadon round out the Kiwi group.
The notable absentee is last year's winner Jock Paget, who is preparing for his appeal against a ban over a positive substance found in his horse at last year's Burghley event.
Competitors from 14 nations will take on the best of the British, with many eyeing spots in teams for this year's world equestrian games in France.
Eight former winners of the Badminton trophy have entered, including Todd, Australians Andrew Hoy, Paul Tapner and Lucinda Fredericks, and top British riders Mary King, Oliver Townend, Pippa Funnell and William Fox-Pitt.
More than 130 entries were received for the 85 places available.
There are layout design changes for the cross country and this year's winner will receive £80,000 ($156,000), up from £65,000 last year, with increases down through the lower placings to 20th.