The first man to break the mythical four-minute mile barrier has been diagnosed with Parkinson's disease.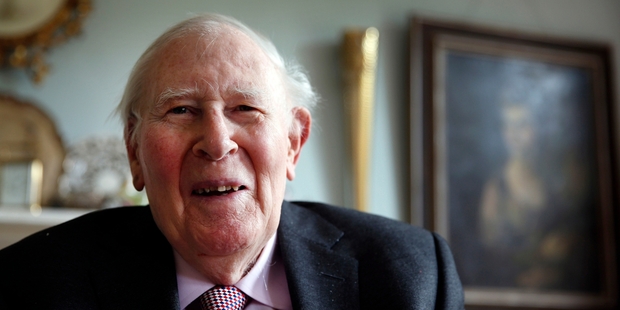 Roger Bannister, who set the world ablaze 60 years ago with his physical prowess, announced recently that he has late onset Parkinson's disease.
It is a cruel blow for a man who went on to have a distinguished medical career as a nerve specialist that he has been struck down by a neurological disorder
"It's in the nature of things, there's a gentle irony to it," he said. "What is walking anyway?"
His once regular long country walks with friends have become, instead, trips to rural pubs for lunches.
But, of course, Bannister is used to physical challenges. He had achieved what many people thought was impossible: four laps in four minutes.
There is a symmetry and a simplicity to what he did. So simple indeed that it is hard to understand the feeling of euphoria the feat engendered. The Daily Telegraph described it as "sport's greatest goal", something "as elusive and seemingly unattainable as Everest".
Bannister's run is an event which still resonates, forcing us to question what the human body is capable of achieving. He describes the laps unfolding "almost like the evolving of a Greek tragedy, or a triumph, in which everything is encapsulated in that short period of time".
He used to dismiss those four minutes as no more than an "interlude" that delayed his high-powered career as a neurologist, and then a Master of an Oxford college.
In old age, his body may be starting to fail him, but his brain is pin-sharp. The Parkinson's means he needs a pair of crutches to walk from the armchair to the door of his sitting room, but in all other respects he appears pretty fit for 85.
"It's no secret that this [pointing to his stiff legs] is Parkinson's. But I've had a good innings," he says, aware that he is the last of the major players still alive from that rainy day on May 6, 1954.
One of his pacemakers, Chris Brasher, died a decade ago, and the other, Chris Chataway, died this year.
He finally seems at ease with his legacy, whose roots stretch far back. The mile had been raced since at least the 1770s - gentlemen started to challenge each other's footmen to race between mile markers against the clock. By the time Bannister went up to Oxford, however, the amateur era had come to dominate athletics and it was not the done thing to be seen to train too hard.
The impression was not entirely accurate. Bannister was only able to squeeze in half-hour sessions during his lunch break as a medical student but was aware of the methods of the Swedes, who had spent World War II lowering the record from 4.06 to 4.01. They trained hard but in short bursts, using the method they called "fartlek", the forerunner of interval training.
The record had been stuck at 4:01 for nearly a decade. But Bannister, after training in secret during the early winter months of 1954, was confident he could do it, if he had help from Brasher and Chataway as pacemakers.
The first possible race of the season was at the Iffley Road track on May 6 that year. It had been raining steadily and the wind had been blowing hard. Bannister knew this would slow him down considerably, possibly by four seconds. "I wasn't sure I could do 3:56."
Brasher and Chataway were becoming impatient with Sir Roger's crippling indecision. They came into the changing room half an hour before the 6pm start and said: "You've got to make up your mind."
At that moment the wind dropped a little and Bannister said: "Let's do it." After the third lap Bannister knew he could be in trouble.
He kicked for home with 300 yards to go.
"I felt the tape was receding over the last few yards. I knew I could not run any faster and I gave it everything." A fear of failure - as much as a quest for glory - drove him on. He says that if he did not hit that tape in under four minutes, "the world would be a cold and forbidding place".
The record - 3.59.4 - held for all of 46 days. In June, Australian John Landy smashed it in Finland, taking it down to 3.58.
The statistics show that average speeds are improving at a slower rate. But all it needs to get to 3.30, as Bannister says, is "a Usain Bolt of middle distance" - someone with exceptional genes. "I think it foolhardy to predict the absolute limits of human endeavour." Telegraph Group Ltd