Katie Glynn back after long injury layoff just in time to join NZ World Cup squad.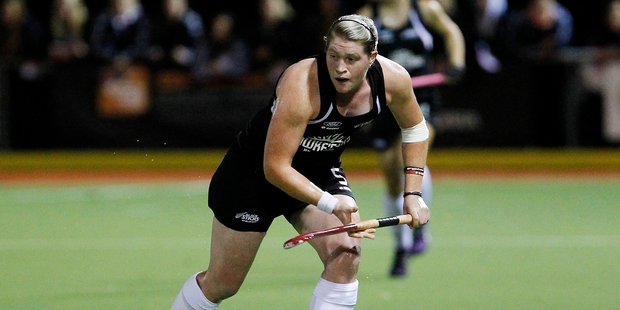 New Zealand's most prolific goalscorer Katie Glynn is back from a lengthy injury layoff, just in time for the hockey World Cup.
The return of Glynn and key midfielder Stacey Michelsen, both having recovered from knee and cartilage injuries, is a significant boost to the world No5 Black Sticks as they prepare for the cup in The Hague, starting on May 31.
The squad of 18 named yesterday comprises a blend of experience - three players have played more than 200 internationals - and youth, with four 19-year-olds.
Results have been patchy in the absence of Glynn, who has scored 69 goals in 118 games, and Michelsen, who confirmed her readiness for World Cup activity during the Festival of Hockey in Hastings last month.
Glynn had surgery last September after injuring the anterior cruciate ligament in her right knee during the national league and some cartilage damage as well.
Michelsen's situation was slightly different; she tore a cartilage in half.
Longtime team mates, they've spent plenty of time together in the gym, doubtless cursing their misfortune, but also pushing each other to get back to full fitness.
"It's been quite a frustrating process," Glynn said. 'The first few months were pretty hard but the last couple have been quite nice, getting back on the turf. The first couple of games were pretty rusty, and the mind was telling the body to do one thing, but not responding."
Now she feels considerable strides have been made and while she's still got to work on getting her speed back - quipping yesterday it was never her strongest suit - Glynn has one immense asset for the Black Sticks: the ability to find the net.
"Mark [coach Mark Hager] has been really good and we've communicated openly over the last couple of months. I wouldn't have wanted to be picked if I didn't feel I was at the level for a World Cup event. But I've made some good gains in the last four to six weeks and feel confident in my ability."
Her determination and desire has doubled, she reckons. "I've always been a pretty passionate player and when you have something taken away from you, you realise how much it means," Glynn said.
Krystal Forgesson, with 60 goals second only to Glynn, is only one of the three double centurions, having played 202 internationals, along with captain Kayla Whitelock (207) and the most-capped player, Emily Naylor (240).
The four players yet to reach 20 are defender Liz Thompson, utility Rose Keddell and strikers Sophie Cocks and Michaela Curtis.
The squad have had practice games against men's teams and will have warm-up fixtures once they arrive in the Netherlands. There's confidence within the group. The return of a world class midfielder and their most reliable goalscorer will help that. "We're shaping up well and looking forward to getting to the World Cup. It's going to be huge," Whitelock said.
New Zealand World Cup squad
Goalkeepers: Bianca Russell (North Harbour), Sally Rutherford (Midlands)
Defenders: Sam Charlton, Rose Keddell (Midlands), Rhiannon Dennison (North Harbour), Liz Thompson (Auckland), Emily Naylor (Central), Jordan Grant (Canterbury).
Midfielders: Kayla Whitelock (c, Central), Petrea Webster (North Harbour), Gemma Flynn (Midlands), Anita Punt (Capital), Stacey Michelsen (Northland)
Strikers: Krystal Forgesson, Katie Glynn (Auckland), Sophie Cocks, Olivia Merry (Canterbury), Michaela Curtis (Central).
World Cup pools
Pool A: Netherlands (World No 1), Australia (4), New Zealand (5), Korea (8), Japan (9), Belgium (12).
Pool B: Argentina (2), England (3), Germany (6), China (7), US (10), South Africa (11).