From an incredibly choreographed free kick to a dinosaur throwing a baseball, Daily Shorts looks at the light-hearted side of sport.
Remember this spectacular corner kick? Well, Japanese side Kyoto Sanga have just produced the free-kick equivalent during a second division league match.
Kyoto made dummies of their opponents Yokohama, bamboozling their rivals with not one, not two, but FIVE dummies before opening the scoring by smashing in the close-range set-piece after 15 minutes.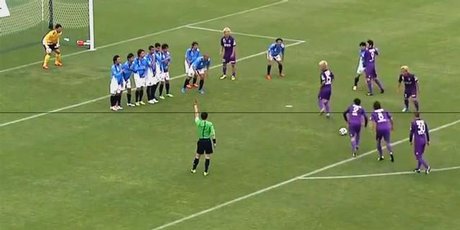 But questions need to be raised about the defensive charge from one of the Yokohama defenders. For some reason he waited till the fourth dummy, before headlessly charging out and leaving a huge gap in their wall.
With Yokohama still confused by what they had just witnessed, Kyoto Sanga went on to win the match 2-0.
Schoolboy cricketer doesn't mess around
In Britain, Eltham College cricket captain George Haley hit a Twenty20 double ton while helping his side reach 318 for one in a national schools' competition. That's a run rate of just under 16 an over.
Haley scored 208 from just 56 balls including 22 sixes and 16 fours.
An update on the Wirral Cricket Club First XI who were bowled out for just three last week. They scored 155 more runs in their latest innings!
1st XI drew, Alderley Park 215-6 from 45 overs, Wirral 1st XI 158-9. Hero Hodson is at it again! #not3allout

— Wirral Cricket Club (@Wirral_CC) May 4, 2014
Here's Ferrari driver Felipe Massa dressed as a pirate.
Federer twins news
With Mirka Federer giving birth to a second set of twins yesterday, boys Leo and Lenny, it seems tennis could be Federer dominated in a couple of decades. It is the couple's second set of twins following girls Myla and Charlene. The family could have the all five trophies at a grand slam (men's singles, women's singles, men's doubles, women's doubles and mixed doubles) in years to come - along with all Federer finals in three of the events.
Or will the Agassi children have a say about that?
Roger Federer's wife Mirka gave birth today to their second set of twins. As @FortyDeuceTwits said: Doubles specialist.

— Richard Deitsch (@richarddeitsch) May 7, 2014
Second set of twins for Roger Federer. Boys this time, so that is the future men's, women's and mixed doubles all sewn up!

— Suzanne Lord (@soozieL) May 6, 2014
Roger Federer & Mirka have their second set of twins. If you're thinking of playing competitive doubles 18 years from now, just forget it.

— Judy Battista (@judybattista) May 6, 2014
Arsenal players respond to abusive tweets in the best way possible
Just check out this clip, it's brilliant.
And also,
A freakin dinosaur threw out the first pitch at the Padres MLB baseball game last weekend. Amazing.
Throwback Thursday:
Before there was Konrad and Teuila, there was Tiger and Elin.
And somewhere in between there was this incredible animated Chinese reenactment of Tiger's sordid affair.
Enjoy.