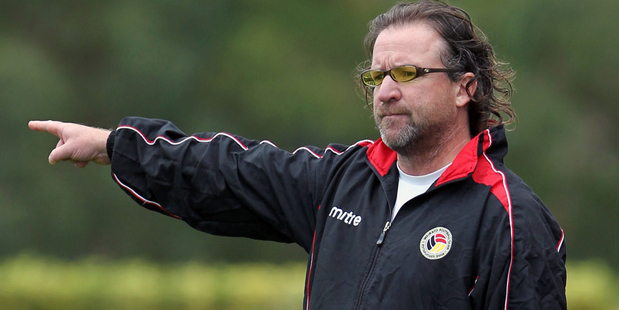 Declan Edge has masterminded Ryan Thomas' stunning rise into professional football — now he wants to revolutionise the approach to football development in this country.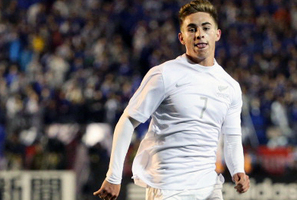 Thomas, who scored two goals against Ajax in the Dutch Cup final last week to cap an incredible first season with PEC Zwolle, was coached by Edge almost single-handedly since he was a junior.
The former All White believes he has the formula to produce more players like Thomas.
"You give me a keen kid with the right mentality and the willingness to commit to five or six years, and I can guarantee you a professional footballer," says Edge.
"I know how to produce world class players. It's all about deliberate, purposeful, long-term work.
"Most of the other systems, where kids are exposed to numerous coaches and there is an emphasis on school football, just aren't working."
His opinions now carry more weight. Thomas is an Edge product and it's hard to recall another locally produced player who has made the transition to European professional ranks so seamlessly; perhaps Wynton Rufer would be the last example.
Edge is a handful; he can be outspoken, single-minded and stubborn. But you can't question his passion — he has devoted most of the past decade to coaching and his football academy — and he is beginning to produce some outstanding results.
Thomas came under Edge's wing from the age of 11, and even spent a few years living at his house when the travel became too much. Phoenix and All Whites striker Tyler Boyd was also an Edge protege, while nephew Jesse Edge (Declan's nephew) is in the reserves at Italian Serie C club Vicenza and Harry Edge has landed a 12-month contract at PEC Zwolle.
"The way we have been doing things in New Zealand just doesn't work," says Edge.
"I've shown what is possible and produced international players at my first go." Edge demands complete commitment. Players need to devote all their energies to football, and some of his students leave school early to pursue their dream. There are no half measures.
"When you are trying to become a professional footballer, there are no shortcuts," says Edge. "I've had players who wanted to go travelling with their mates or party at summer festivals. That was fine — but I knew they wouldn't make it. Ryan doesn't go out, he doesn't lead a normal life, he doesn't drink, but that is what it takes. It's never been a sacrifice, he chose to do it. Look at Lydia Ko — that is the dedication you have to have."
In the past with younger players, Edge has insisted that players have 'number one' haircuts, tuck in their shirts and wear black boots. There are no tall poppies — players who wore New Zealand age group gear at trainings were told to change.
Edge, who represented the All Whites 26 times, caught the coaching bug in 2003, when, as assistant to Paul Nixon, took Melville to the 2003 Chatham Cup final, beating Central and Waitakere City along the way. Coaching stints followed in Waikato and Tauranga, though his most recent spell in the Waikato was less successful. His Melville team were relegated (Edge was sacked) and he lost his Waikato FC job halfway through his second season in 2012, with the team struggling for results.
"From the club's point of view, it was a very difficult time," says Melville chairman and former Waikato FC board member Bruce Holloway. "Declan had mixed objectives; more focused on development than winning."
"We hardly won a game," remembers Thomas. "We hated losing all the time but it was fun to have possession and just play."
Despite many defeats, Edge would emphasise other success factors, proud that his team of teens were regularly completing up to 700 passes a match.
"Sure, we lost games but I had 15- and 16 year-olds in the ASB Premiership," says Edge. "We played some great football and it was perfect preparation for where they needed to go. It's a difficult balance but if you want to produce players for the professional environment, that is what it takes."
When dismissed, Edge, in true Pied Piper fashion, took many players with him. Most stayed when he later become technical director at Ole Academy in Porirua. They have recently formed a partnership with the Western Suburbs club and typically have 40 to 60 players on their books. There are dormitories on site for players from outside Wellington and specialist chefs and sports nutritionists provide the necessary football fuel.
Edge says they have based their systems and philosophies on the Ajax academy which, alongside Barcelona, are the top developers of talent in Europe.
"Ajax visited and told us 'you do exactly what we do'," says Edge. "We are developing something special here — you've seen the results and there is more to come."
Edge would like to be involved formally with NZF but has been kept outside the circle, despite his development track record. It's similar to Rufer, who was ignored for a long period by the national body, despite a long list of graduates from his academy.
"No one from NZF has visited Ole," says Edge. "It's strange. I know I could help NZF produce world class players ... but I couldn't even get an interview for the New Zealand under-17s job.
We are striving to do great things here and I want to keep challenging myself."

NZ football academies
• Wynrs – Wynton Rufer School of Excellence Wynton Rufer has run his academy since 1997, headquartered in Auckland with smaller branches around the country. Stefan Marinovic, Marco Rojas and Chris Wood are among many who have represented Wynrs teams across the years.
• Asia Pacific Football Academy – Founded in 2009, the Academy moved from Christchurch to Wellington this year to strengthen ties with the Phoenix. APFA also has links with Chelsea while alumni include Bill Tuiloma, Cameron Howieson and Alex Rufer.
• Ole Academy – Established in 1998, graduates have included Mike Wilson and Craig Henderson. Declan Edge joined the coaching staff in 2012, bringing Ryan Thomas and Tyler Boyd with him. One of the few where players can live on site.
• Alegria Samba Style Soccer School – Has a latin twist on traditional schools, using Futsal as an anchor for skills based training. Chris Wood, Michael Fitzgerald and Adam Thomas are among those who have spent extended periods at former All White's Mike Groom's school.
• Ricki Herbert Football Academy – The former All Whites and Phoenix coach runs his academy with assistance from his father Clive, with clinics around the country.
• Capital Kaizen Academy – Based in the capital and run by former NZ Olympics coach Stu Jacobs. Other football schools include the Three Kings Academy, Waikato University Academy and the Shane Rufer School of Football.