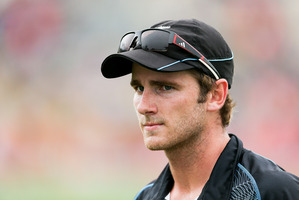 Expect Kane Williamson to captain New Zealand this summer, with BJ Watling and Tom Latham groomed as long-term back-up options. The news comes as the national cricket side focuses on leadership depth in preparation for the World Cup and beyond.
Brendon McCullum's ongoing back problems and Ross Taylor's actions-rather-than-words leadership post-captaincy means Williamson is likely to step into the role for periods between now and the World Cup.
After the three tests and two T20Is on the West Indies tour which starts this month, New Zealand will play five tests, 17 ODIs and the odd T20I before the World Cup begins in February.
To preserve his fitness, McCullum is not expected to play all the ODIs. As captain-in-waiting, Williamson will be afforded opportunities to perfect his tactical nous.
At 23, Williamson was at the forefront of the team's professional revolution last summer. He has consistently shown a model temperament and technique for dealing with crises as New Zealand's Mr Cricket.
The leadership plan does not end with Williamson. The England A tour is a chance for Watling to develop his talents as captain, while 22-year-old Latham, who has regularly captained Canterbury, is another tourist tagged as a prospect.
The issue became pertinent when then 34-year-old Kyle Mills was deemed the last genuine leadership option on the limited overs tour to Sri Lanka in November. McCullum and Taylor had returned from the Bangladesh tour to prepare for the West Indies tests and Williamson had then broken his thumb.
New Zealand will enter an intensive period of one-day cricket from October, with three matches planned against South Africa, seven against Pakistan (split into five away pre-Christmas and two at home pre-World Cup) and seven against Sri Lanka.
McCullum, who will likely eye a reduction in his schedule or perhaps retirement post-World Cup, is expected to have his workload reduced between now and the tournament start.
Watling is a player whose stocks have risen significantly over summer. Tidy wicketkeeping and his mettle saving the second test against India (as part of a world record 352-run sixth wicket stand with McCullum) have earned him the captaincy for the nine 50-over matches and two three-dayers against county sides, the England Lions, Sri Lanka A and Scotland during July and August.
There's still pressure to sustain his performances following Luke Ronchi's selection for the West Indies test tour but, conversely, Watling is challenging Ronchi in the ODI ranks after a Ford Trophy campaign with Northern Districts where he scored 345 runs at an average of 69 and strike rate of 88.
Latham's future is similarly bright after making his test debut in Wellington during Taylor's paternity leave. He is viewed as an opening option at test and ODI level, after a summer where he topped the Plunket Shield averages with 948 runs at 79, including two double centuries, and made 286 Ford Trophy runs at 40.85 and strike rate of 86. Just as important from a leadership perspective is how Latham's team contributions are viewed.
When first selected for New Zealand, he was described by then Canterbury coach Bob Carter as "diligent in his approach; a stickler for routine" while Canterbury captain and now test opening rival Peter Fulton said Latham was "quiet, respectful and willing to learn". There is no evidence to suggest those qualities have changed.