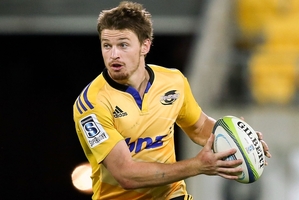 Beauden Barrett will be the kingmaker in an unprecedented scramble for Super Rugby places caused by the fact all but two first-fives - Daniel Carter and Aaron Cruden - are coming off contract this year.
Carter and Cruden are respectively staying at the Crusaders and Chiefs next year, but every other contracted first-five could be on the move. Gareth Anscombe, Lima Sopoaga, Colin Slade, Tom Taylor, Tyler Bleyendaal, Simon Hickey, Baden Kerr, James Marshall, Hayden Parker and Ihaia West have to decide where their futures lie but probably won't do so until Barrett reveals his intentions.
Barrett is the No10 who tops the available list. The Blues, cashed up having released Benji Marshall, pushed hard to sign Barrett last year and will most likely do so again.
History has been consistent in regard to Super Rugby - the competition hasn't yet been won without a world class first-five and the Blues have a clean slate to carefully pick their options for next season. Not only has Marshall gone, but Chris Noakes has signed a two-year deal at London Irish and, with Kerr, Hickey and West off contract, the Blues can concentrate their recruitment strategy at No10 and throw plenty of money at it.
The Hurricanes will be equally determined to keep Barrett - a player whose influence on a young and talented backline is seen each week. The other first-fives around the country will be reluctant to commit their futures for fear of ending up in the same place as Barrett.
Anscombe, for instance, has made no secret of his desire to play at No10 and run a franchise. With Cruden blocking his path at the Chiefs his options are to stay in Hamilton as a fullback who can cover first-five; return to the Blues - who are believed to now accept they were wrong to let him go in 2012 - as first-choice first-five or consider joining Cardiff. With his mother born in Wales, he would be eligible for national selection there.
If he comes back to Auckland, it would be on the basis the No10 jersey would be his, which is why he'd be taking a risk to commit before Barrett shows his hand.
Taylor may be viewing things in much the same way. Carter will return to the Crusaders after June and be there next year and it would seem that coach Todd Blackadder views Slade as the next best playmaking option. If Taylor re-signs with the Crusaders, it will be as a utility back but the Blues could build their game around him at No10.
Sopoaga has impressed this year, adding composure, accuracy and tactical awareness to his excellent running game. He's been a big factor behind the Highlanders revival and it would be a surprise if they don't move early to tie him into a lucrative, longer deal.
Barrett is unlikely to determine his future until the Hurricanes have a new coach in place. Head coach Mark Hammett is leaving after this campaign and while Barrett has long-said the Hurricanes are where his heart is and the club for whom he wants to play, he'll want to see who comes in at the helm.
Hurricanes CEO James Te Puni says he hopes to have the appointment made by mid-June, with applications having closed on Friday.
"Contracting and player retention is lead by Chris Stirling, our general manager of high performance. Members of the coaching staff are still involved in discussions but the pending new coach does change the approach in some cases."
Top 10s
Beauden Barrett (Hurricanes)
Age: 22
Options: The Hurricanes and Blues will no doubt have another tug-of-war over him.
Most likely to: Looks settled in Wellington and is thriving at the Hurricanes. The only doubts about staying would be linked to the pending coaching appointment and the fact Alapati Leiua, Andre Taylor, Faifili Levave, Jack Lam and Tim Bateman are all leaving next year. The Blues could probably throw an obscene amount of money at him.
Gareth Anscombe (Chiefs)
Age: 22
Options: He is wanted by the Blues, the Chiefs, Cardiff and other European clubs.
Most likely to: He is desperate to establish himself as a first-five on the big stage and isn't likely to get that opportunity regularly at the Chiefs. He is an Aucklander but will not want to sign with his former franchise only to later discover he's in competition for the No 10 jersey with a higher ranked player again. It's probable that at some stage in his career, he'll commit to play for Wales but it may be too soon for him to do that this year.
Tom Taylor (Crusaders)
Age: 25
Options: Likely to be wanted by every New Zealand team.
Most likely to: He is a loyal and happy Crusader but they see him as their third choice first-five and he's struggled to hold a regular place in the midfield this year. The All Blacks like him at 10 and knowing what happened at the last World Cup, they would support him moving next year to get regular game time at first-five.
Lima Sopoaga (Highlanders)
Age: 23
Options: Likely to be wanted by the Highlanders, Blues and Hurricanes if Barrett shifts.
Most likely to: Stay with the Highlanders. He's matured this year and played consistently impressive rugby. He's established himself as the premier 10 at the southern side and the Highlanders look to be building momentum.