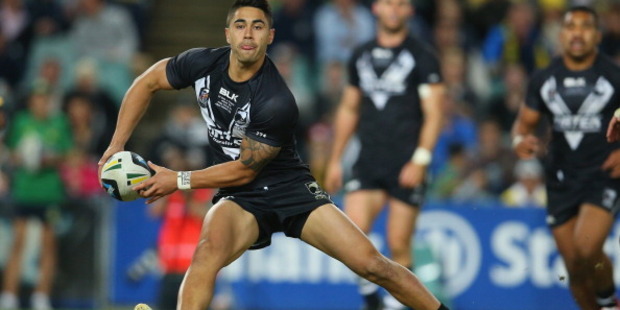 Shaun Johnson desperately wants to be among the top echelon of playmakers in the game and it's part of the reason why he has taken responsibility for the Kiwis' 30-18 defeat to Australia in last night's Anzac test.

His talents were to the fore as the Kiwis led 18-12 at halftime but his flaws were also exposed and why they couldn't kick on to record a famous victory. He put together a clever kicking game in the opening 40 minutes but it fell away in the second spell as Australia mounted their comeback.

It wasn't easy for Johnson, given he was the most experienced player in New Zealand's spine with only eight tests and the fact he was the only kicking option and main creative force which saw him put under considerable pressure, but he was fairly critical of his own performance after the game.

"I thought our kicking game in that second half really let us down,'' he said. "That was the difference. Our forwards kept rolling forward like they did in the first half and I just wasn't able to complete our sets.

"It was frustrating. They would come off the boot and I was like, `what was that? Why are you tossing that up? My mindset didn't change and what I wanted to do but my execution just dropped away and I'm going to have to keep working on it.

"[We needed] that polish on the end of what was some good go-forward. That's probably why [Australia five-eighth Johnathan] Thurston was man of the match because that's all he does. He doesn't do much during the set but he finishes all sets pretty well.
Looking at the best halves in the comp, that's all they do. If I can step up there, no matter who is playing in the halves, with the go-forward we got, we are going to have no issues.''

There was more to the result than Johnson, like Australia's ability to hold the Kiwis scoreless in the second half and produce under pressure, and it proved teams need more than just enthusiasm to win against the best. Australia also wanted it to maintain their astonishing winning run, which has now equalled the Invincibles' record of 16-straight victories set between 1979-1983.

"A touch of class might have got us over the line but the effort and energy they performed with gave them a great opportunity,'' New Zealand coach Stephen Kearney said.

Australia captain Cameron Smith agreed.

"We showed a lot of respect to their side but we were just our-enthused early,'' Smith said. "But in the end, I think the old heads of our side really showed their composure and showed their pride for the jersey that we were wearing.''

Johnson could have done with the likes of Kieran Foran and Issac Luke alongside him to take some pressure off and give the Kiwis more attacking options and it was promising with the Four Nations later in the year. But Johnson still needs to become more consistent if he is to lead teams to success.

For all the style he also needs to back it up with substance.

"I thought they showed their class,'' Johnson said. "They put us away in the second half when they had to and we just weren't good enough with the ball when we had our opportunities. We came here wanting to win and the fact we didn't do that is the most disappointing thing.

"We spoke about wanting to restore some pride and honour back in the jersey and I think we did that.''