Returning to competition after serious accident has been emotional and rewarding, Farley says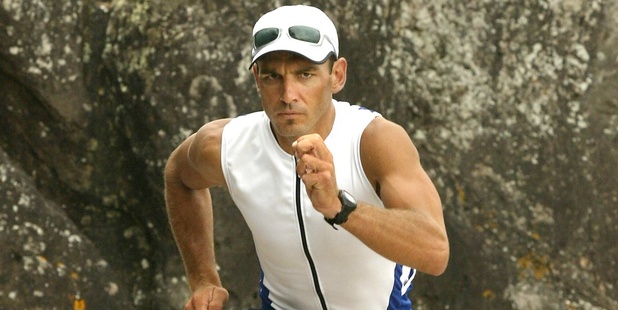 Tauranga multisport athlete Dwarne Farley never takes getting out for a run for granted.
The 41-year-old was the victim of a devastating accident just 15 months ago. He was out running at night in the country, with no street lights, and a 1200cc Harley came around the corner on the wrong side of the road and crashed into him, catching his right leg as he tried to jump out of the way.
The impact snapped his lower leg, inflicting a compound fracture of the right tibia and fibula with bone shards protruding from the skin.
Repairing the damage included the insertion of a 385mm by 9mm rod from his knee to his ankle.
Farley, who plans to complete another Coast to Coast next year, knows he was fortunate.
"If I hadn't leapt out of the way the bike would have taken me head on and I'd be dead," said the elite athlete, who is also the director of a nationwide interior fit-out company.
"The last thing I remember is the headlight bearing down on me, so I'm bloody glad my instincts kicked in and I jumped without thinking. The noise of the bone snapping was something I will never forget."
He spent three days in hospital recovering from the surgery to insert the rod, he limped for six months until two screws were removed from around his ankle and after that it was into full rehabilitation. He started running again in February last year, nine months after the accident.
The major part of his early recovery was sitting on a stationary bike in his garage for endless sessions which helped immensely in maintaining movement and muscle mass. It continues to be a key component in his training regime.
He began to paddle once he could safely drive, with friends at first putting his boat in the water and helping him in and out. Then he began running, which is the discipline he has had to work on the most. But for all the hard times, Farley has never considered giving up.
"I can honestly say I never had a down day - from day one I identified and appreciated how lucky I was to still be alive and intact," he said.
"The most frustrating thing to deal with was not being able to play a full part in my children's lives (his daughter was 8 at the time and his son was 4) until I regained some semblance of mobility."
Farley is using next weekend's Waihi Nugget Multisport Festival as a stepping stone in his comeback. He said the goal of getting back to elite level multisport was a huge driving force in his recovery.
"It gave me a reason to put myself in the hurt box regularly as I knew the longer I remained stagnant the longer my recovery back to competing again would be. I love my sport and all the positive aspects it brings to me and my family's life and that was enough motivation in itself."
Understandably the first event back for Farley, at his local race the Kaimai Classic, was an emotional experience. It was the first race he ever competed in and it's been one of his targeted races each year.
"To be able to compete in this only 11 months after my accident and to manage to win was hugely rewarding. I was a little emotional coming across the finish line with my wife and kids and to be able to do that in front of all my family and friends was one of the my best feelings I have ever experienced associated with racing."
Farley cannot wait to continue his development at the Nugget Multisport Festival on May 10.
"The run is my highlight as I love coastal trails," he said. "This one gives you everything you could want - native bush flowing into sandy bays. The exposure to the coast and its weather brings you right to the edge of the cliffs, not to be missed as it is a real highlight which will literally take your breath away. The finish is also very cool with a run around the Martha Mine."
Farley believes his accident has taken nothing away from his ability.
He has an impressive resume including wins around New Zealand and a third place at the Abu Dhabi adventure race in 2009.
His third place in the Coast to Coast in 2007 was a career best but the nine times he has won the Kaimai Classic makes him one of the most consistent male multisport athletes in the Bay of Plenty.
He said he has always appreciated the healthy life balance sport gives him and suffering the accident has only reinforced this.
"I have always felt privileged to be able to get out and experience the paradise we as New Zealanders are surrounded by while also working towards a goal."
Farley has some simple advice for people who have suffered a debilitating injury.
"Your mind is a powerful weapon and it can be used to overcome plenty of obstacles. At all times remind yourself how lucky you are because no matter what your own predicament is, there is always someone with a worse outlook than yours.
"Dream big and focus on attainable goals, surround yourself with good people, work hard and anything is possible.
"All cliches, I know, but all I believe are relevant when facing a potentially life-changing event."

Career highlights
• 3rd Coast To Coast 2007
• 6 podium finishes Motu Challenge
• 5-day stage race in Abu Dhabi - third with French team Thule
• 9 x champion of the Kaimai Classic
• 2 x champion of the Coromandel Classic 2-Day Multisport Race
• First Auckland Head To Head Multisport Race
• First Wellington Crazyman Multisport Race
• 2 x champion of Tauranga Grinder
• 2 x champion Lake To Lighthouse 2-Day Multisport Race (2 person)