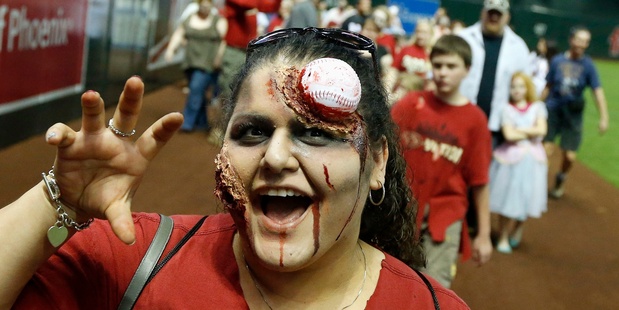 From zombie fans to how to sneak into fans successfully, Daily Shorts looks at the light-hearted side of sport.
Fitting tribute
The Corinthians football side paid tribute to Brazilian Formula One great Ayrton Senna ahead of yesterday's game, with players wearing yellow helmets onto the pitch. Senna died in a crash at the San Marino Grand Prix 20 years ago.


#AyrtonSennaDaFiel #SennaEterno pic.twitter.com/ojpPi5hHBi

— Corinthians Paulista (@Corinthians) May 1, 2014
Dad of the week
Country captain Beau Scott has revealed his father Col was so rapt at his leadership appointment for Sunday's representative fixture, he drove from Sydney to Newcastle to personally congratulate him.
Scott was announced as Country skipper on Sunday and the next day his father made the 320km round trip from the Harbour City to the Steel City to see the Newcastle back-rower before he went into camp, AAP reports.
"My old man rang me up when he saw the news that I was captain, he was over the moon,'' Scott said.
"He surprised me in Newcastle the next day when he drove up from Sydney just to shake my hand and say congratulations.''
Top promotion

May the 4th be with us when we take on the @northernmystics #madeofsteel pic.twitter.com/w1x92p35FM

— Southern Steel (@SteelNetball) May 2, 2014
You say Wembley, I saw Wimbledon
An interesting line in Michael Brown's story on Kiwis and Roosters winger Roger Tuivasa-Sheck ahead of the Anzac test.
"Even off the field, he copes well with the attention and when he stumbles, like when he thought Wembley was where they play tennis, he composed himself and came armed with a good statistic (the number of toilets at Wembley) for when he next faced the media."
Boo to you
Former New York Yankee Robinson Cano returned to the Bronx this week and The Tonight Show host Jimmy Fallon got Yankees fans to boo a cardboard cutout of the Dominican - only for Cano to surprise them.
Watch the video
What's my age again?
Major League Baseball is getting a new tool to verify the ages and identities of players from the Dominican Republic.
More than 10 percent of the players in the majors are Dominican. There have been a few known cases in which players signed contracts after using fake documents that gave wrong names and ages.
The president of the Dominican Central Electoral Commission says MLB officials will now be able to access its national database of names and biometric data. Roberto Rosario says that should help reduce fraud among those aspiring to play professional baseball in the U.S.
How to sneak into a game (with a baby's bottle)
Mike, who runs a YouTube channel called The Hacks Of Life, shows how easy it is to sneak into a baseball game with just a bottle of 'baby formula'.
Still not as impressive as the time Pulp Sport snuck an entire pallet of Tui into Eden Park.
Shaq attacks
Shaquille O'Neal has apologised to a man with a rare disorder for making fun of his appearance in an online post.
Jahmel Binion has ectodermal dysplasia, which affects his face, teeth and hair. He told MLive.com that he was "confused" when O'Neal posted a picture on Instagram showing him making a face imitating Binion.
O'Neal's spokesman Rishi Daulat told The Associated Press on Thursday that O'Neal personally wrote the tweets. Daulat declined further comment.
O'Neal followed up with a tweet that said: "Had the opportunity to talk to Jahmel Binion yesterday and apologize about the post on IG!"
"Made a new friend today when I called and apologised to Jahmel Binion. Great dude," he later tweeted.
Way to roll
Tim Payne and Cameron Howieson looked to have celebrated being named in the latest All Whites squad by going on a rollercoaster (the Pepsi Max Big One at Blackpool).
Pleasure beach with @CameronHowieson ???? pic.twitter.com/7EhBFiCDsu

— Tim Payne (@Tim_Payne7) May 1, 2014