Weapons of maths destruction needed for this battle.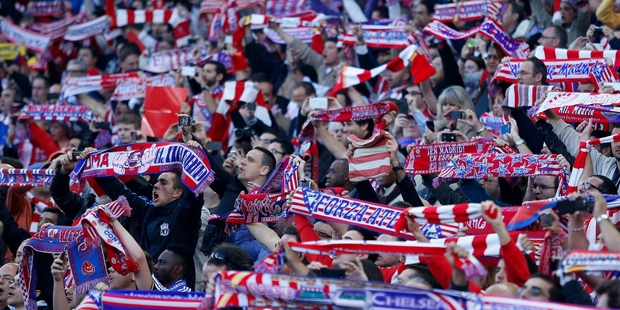 I am a simple man so let me get this straight: two divisions with four conferences - two with four teams playing three games in their conference and two with five teams playing four games in their conference and then each of those conferences playing the other conference in one division and one of the other conferences in the other division and then making up the difference with two games against teams assembled from all the concussed players who missed last season.
Sound about right? I'm a little slow on these things.
It's the number thing again - never a strong point, as I have been so careful to remind you all in the past. So you'll forgive me if by the sort of creative addition that brought Lehmann Brothers down I try to crack this peculiar code, which at last look gives one country two of the four conferences and up to seven of the eight teams, which is two teams less than the other division (not that we're counting), which means they'll need at least one extra game which, I am assuming, will be played against a Senior B side from the farm league in Humansdorp.
Excited as I am by the prospect of the 14th- and 15th-placed teams in this year's competition being re-joined by the 15th-placed team from last year's competition, who replaced the fifteenth-placed team from the previous year's competition, I am more excited by the fact Argentina will have a team. Which presumably means no South African side will ever have to be 15th ever again. Except there will be 18 teams so technically there's still a chance. Though how that works on a count back is beyond me.
I can only assume there will have to be a tie-breaker involving a boerewors roll-eating competition.
Of course, all eyes will be on the New Zealand conference in which each team will play the other four teams in the conference and five teams in the Australian conference and four teams in one of the South African conferences (where three of the four teams in one conference are known - the other being a mystery), but then none of those teams in that conference the next year.
Then each team plays two more teams in its own conference, chosen by throwing all the names into a hat and having them drawn out during bingo night at the Ohaewai Tavern on the first Thursday of the month.
It is possible, under this system, for teams to actually find themselves drawn from the hat to play themselves, and they will be forced to field two teams, one wearing last season's away strip, in a match they can't lose but which carries no bonus points. It will be refereed by the players' mums.
And then there's the chance for Spain to host a team! Spain! The team will obviously be called the Plains and will play mainly in the rain.
Spain makes a great base for a Super Rugby side given that even the most casual observer of the Champions League can see that the appetite for football in this nation is on the wane, and at least 23 people are agitating for change. Last time I looked, that's all you need for a rugby team. It's simple mathematics people. Even I can figure that one out.
Across in Australia though there will be some difficulties. Granted, each of the teams in the Australian conference will, like the teams in the New Zealand conference, play each of the other teams in the Australian conference, before playing all five teams in the New Zealand conference and one of the conferences in the other division before choosing the two remaining in-conference games by pitting Wallaby players from each team against one another in a 4am milkshake drinking competition in a central-city McDonald's.
It all makes perfect sense to that point, but then it gets confusing, given ARU chief executive Bill Pulver will likely insist each of the games is played a week earlier than advised.
So there it is. I'm now on top of the whole expansion thing. It wasn't really that hard after all. All it takes is a bit of creative mathematics, and a complete faith in uneven equations. So let me charge my glass and raise a toast.
To player welfare.
Ground-breaking Brumbies?
Seems strange to think it but the Brumbies will be entering new territory when they face the Crusaders tomorrow night. The Australian franchise has never met the Crusaders at AMI Stadium at Addington. They may want to use the whole "first time for everything" theme to their advantage, considering no Australian or South African side has tasted victory since the venue was opened for round five action in 2012. The Crusaders have been defeated only three times in 18 games there - by the Hurricanes (twice) and the Chiefs.
Hypnosis gone wrong?
Seems there has been a lack of thorough investigation into the Chiefs' two-game losing streak. Having now gone down against the Crusaders and the Brumbies it has become obvious that the link has been staring everyone on the catatonic face all along, namely this could be a case of hypnosis gone wrong. We all know a hypnotist was in action at the ground on the evening of the Crusaders match. We are now almost certain the players may well have been caught in the crossfire. They certainly have looked very, very sleepy.
One for the Mule
Quade Cooper will be centre of attention this weekend as he runs out for his 100th cap for the Reds and good on the bloke. Wynne Gray's column yesterday was dead right - Quade is an entertainer and he deserves respect. Not so much of an entertainer, Chris King will line up for his 100th cap for the Highlanders and you have to hope his team mates will give it 100 per cent for the Mule. A great team man, Mule was denied a chance for 100 Southland caps when his contract was not renewed but now he'll have a hundy for the Highlanders instead.