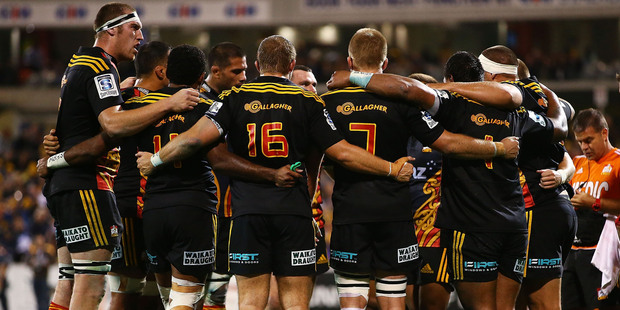 Are we thinking the Chiefs' wobble is serious? Or is it a glitch which afflicts every side along the lengthy Super 15 road?
Since Dave Rennie brought his powerful coaching quartet to the Chiefs the squad has delivered. They have tweaked, plotted and schemed their way to twin titles with an emphasis on unity, cohesion and attention to detail.
They kicked any notions their first title was a confluence of fortune when they repeated the business last season. The Chiefs were the new marker for the competition.
About this time last year they stumbled against the Reds and Waratahs before sorting the malfunctions and surging to the playoffs and title No2.
There have been a few more tremors this year. Nine games into their programme and they have lost four, won three and drawn two - not the sort of start to declare they are on top of their game.
Troops have fallen to injury with alarming regularity, the lineout has battled and tries have dried up.
One victory in the last six games is a focus for the public and a nettle for the Chiefs. There is little wriggle-room left if they want to win the NZ conference. They must recalibrate the machine.
Two wins before their next bye is required. The hurdles are the Lions tomorrow, then the Blues.
There are no gimme games in this year's series and the Lions have claimed as many wins as the Chiefs.
The Chiefs need to make a mini-statement tomorrow at Waikato Stadium: that the title is still in their house and no one else has the keys.