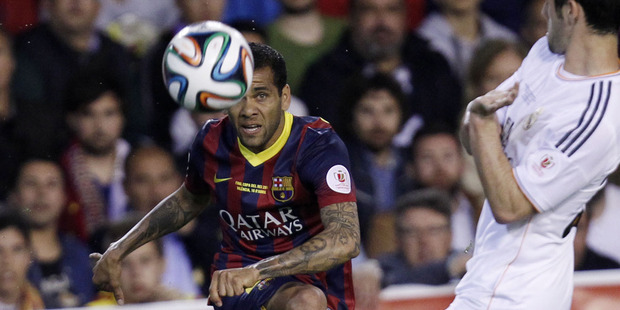 From a player chomping on racism one banana at a time to a Fresh Prince themed baseball game, Daily Shorts looks at the light-hearted side of sport.
The perfect response the racism?
Barcelona defender Dani Alves responded to a racist taunt when a banana landed at his feet during today's game at Villarreal by picking up the fruit, peeling and then eating it before proceeding to take a corner kick.
Alves had already played a key part in sparking the team's 3-2 comeback when his off-target shot was turned into an own goal Gabriel Armando in the 65th, AP reports.
And shortly after the banana incident, Alves launched a cross that Mateo Musacchio headed into his own goal in the 78th before Lionel Messi scored Barcelona's winner.
Alves has often been subjected to racist taunts and called fighting racism "a lost war'' in January 2013, after segments of Real Madrid's fans abused him with monkey chants during a match.
Alves: "I don't know who threw the banana but, I would like to thank him. It gave me energy to give 2 more crosses that ended up in a goal"

— FC Barcelona (@FCBarceIonaCAT) April 27, 2014
Fresh Prince theme
"In west Philadelphia born and raised. On the playground was where I spent most of my days. Chillin' out maxin' relaxin' all cool. And all shootin some b-ball outside of the school". A minor league baseball team called the State College Spikes are holding a Fresh Prince of Bell Air themed game in June, including this awesome jersey.
The Spikes will be wearing special "Fresh Price of Bel-Air" themed jersey 6/29 when @alfonso_ribeiro comes to SC! pic.twitter.com/7ab95y1W8m

— State College Spikes (@SCSpikes) April 24, 2014
Alfonso Ribeiro, who played Will Smith's rich cousin Carlton Banks, will host the game.
We live in a small country

Funny. On plane. 2 ladies talking bout me in seat in front. When we landed looked straight at me. Said 2 each other "no that's not her" :)

— Melodie Robinson (@anicemelodie) April 27, 2014
3 all out! Yes, 3 all out!
Wirral Cricket Club's first team managed 10 ducks and only a single run off the bat - by their number 11 - with the other two runs coming from leg byes.
1st XI lost by 105 runs today... Sadly the opposition only scored 108! #3allout

— Wirral Cricket Club (@Wirral_CC) April 26, 2014
Scoreboard....

Can't believe this scorecard today is going viral. @piersmorgan has even got onto it. Proud to make history pic.twitter.com/DmazaKaYob

— Sam Bowman (@SamBowman_) April 26, 2014
Huddersfield player dyes amazing beard for charity
English Championship side Huddersfield Town have had little to cheer this season. Or ever.
So the Terriers fans are going absolutely potty for one of the best football beards you are ever likely to see.
Midfielder Adam Clayton has earned laughs, appreciation and respect with this incredible effort to win the Beard of the Season award.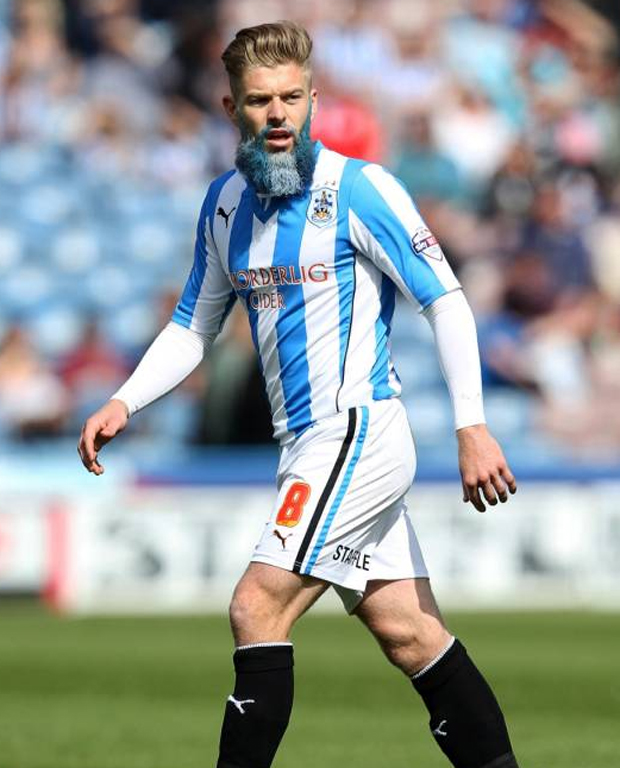 Clayton's facial hair has been a work in progress for some time to raise money for the Huddersfield Town Foundation, and it's uncertain whether he had this end product in mind from the beginning or not, but either way it's really great.
Tweet of the day:
Keeping with the colourful English football theme, check out the hundreds of Hartlepool football fans who dressed up as Thunderbirds for their League Two match with Plymouth Argyle.
The Hartlepool fans have had a right go today this is class pic.twitter.com/73bR76paQT

— Scott Murray (@Scotty_Murray) April 26, 2014
The north East side have a reputation for fancy dress, with fans usually donning mad attire for the club's final away match each season.
Here is last year's effort.