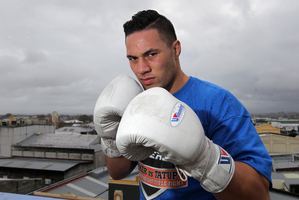 Joseph Parker's education in Germany has included more than boxing.
The Kiwi heavyweight prospect has largely been confined to his hotel this week as he awaits his bout with Brazilian Marcelo Luiz Nascimento in Oberhausen tomorrow. But while this fight is important as he looks to build on his perfect 7-0 record, the 22-year-old was also able to take in some history.
Parker was given the chance to walk around the Rheinberg War Cemetery on Thursday.
There's 3326 Commonwealth servicemen buried or commemorated at the site, including 104 New Zealanders and 240 Australians.
They were airmen with the Royal Air Force and were laid to rest there after being shot down in action over western German air space during World War II.
Parker and Australian Alex Leapia, who is fighting Wladimir Klitschko for the world heavyweight championship, were moved by the visit. Reading gravestones of servicemen, some of who died in their teens, can be jarring.
"Seeing this has given us inspiration and extra motivation going in to the fight," Parker said. "It's a humbling experience."
The pair of heavyweights will channel the Anzac spirit in their respective bouts.
"Having my brother Alex walking around with me, it's a great feeling, and we are both going to take a lot from what we've seen," Parker said.
Leapai (30-4-3) is a heavy underdog against the Ukrainian Klitschko (61-3) but said his trip to Rheinberg was a highlight of the week.
"It's given me a great boost," the 34-year-old said. "I can't compare to what they've done but come Saturday, I'm going to put everything on the line and hopefully bring the right result and take it home."
Parker should have an easier outing against Nascimento, although the 1.96m 33-year-old has been handpicked to test Parker.
The Brazilian (17-5) took the fight on short notice as a replacement for Sherman Williams who decided to pull out after he had a falling out with the Klitschko camp where he was employed as a sparring partner for the world champion.
Williams was a stocky opponent at 1.80m so the Parker camp has adjusted their strategy on the run to take on a taller man.
The WBA's Pan Asian Boxing Association interim heavyweight title will also be on the line, which could give Parker the chance to establish further ranking points and get his name out there.
Parker's parents and brother John joined him in Germany this week, which put the Kiwi at ease.
"I'm feeling really good, really relaxed and I've got a lot of familiar faces here, which makes it easy and a happier environment for me."
Daniel Richardson travelled to Germany courtesy of Duco Events.
- APNZ