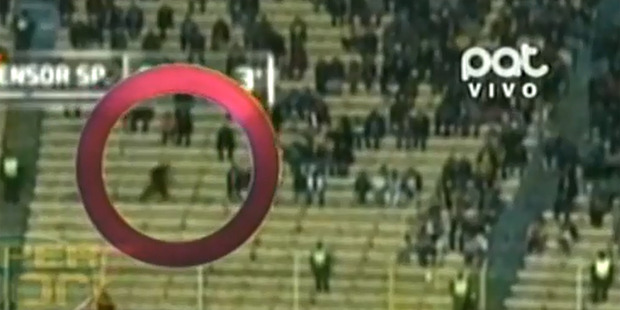 From a spooky Bolivian soccer shadow to Shaq's Linkedin profile, Daily Shorts looks at the light-hearted side of sport.
Do you believe in ghosts? No? Well, neither do we, but we would like some help explaining this.
In a Copa Libertadores match between Bolivian side The Strongest (yes that's their real name) and Uruguayan outfit Defensor Sporting, a fan appeared to run through fellow spectators.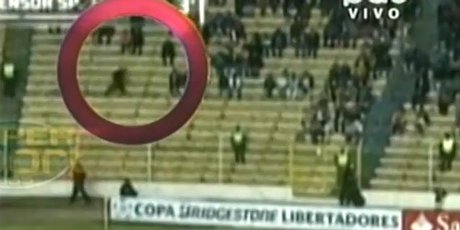 Deadspin have investigated the footage and their readers' theories on the 'ghost' range from a Skycamera (with legs) through to a wide spaced stand which would allow a man to run in front of spectators at full speed. We prefer the traditional ghost theory.
This is not the first time an unexplained apparition has been spotted at a South American stadium.
Some Venezuelans believe the 'ghost' of their deceased President Hugo Chaves was responsible for saving an otherwise certain goal during an international match against Colombia. A figure can be seen tapping the ball over the goal post.
We should all aspire to have a LinkedIn profile like Shaq's
This is not a fake. Slate have confirmed that Shaq's LinkedIn profile does indeed list the NBA legend's occupation as "Owner, a lot of companies."
To get the most from this, try reading the "experience" section in Shaq's deep voice:
"I'm working on a lot of different ventures. My best asset is that I am proven to lead teams to championships. I mean multiple championships."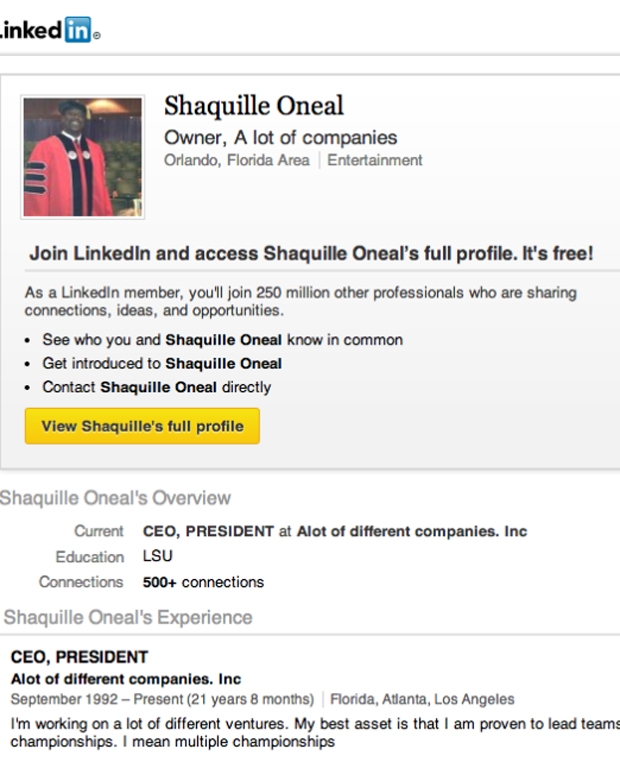 Buffalo Bills Will Pay Up to $3M to Settle Text-Messaging Lawsuit
In 2014, Buffalo Bills starting quarterback EJ Manuel will cost the team $2.02 million against their cap. Thanks to a lawsuit from a disgruntled fan, the Bills will pay roughly $1 million more than that just for their phone bill.
A U.S. District judge has issued a preliminary approval to a $3 million settlement in a 2012 class-action lawsuit filed against the team by Jerry Wojcik, a Bills fan who claimed the franchise violated the agreement of its opt-in texting service.
The suit claims the Bills promised no more than five text messages would be disseminated to fans each week. When Wojcik received 13 texts over a two-week span, he filed suit on behalf of the nearly 40,000 fans who subscribed to the service.
Tweet of the day:
#HakkaBoy #ApneMunde @RossLTaylor loves India. Doesn't he? pic.twitter.com/7Bdoru2xga

— Kartik Sansanwal (@kartiksansanwal) April 23, 2014