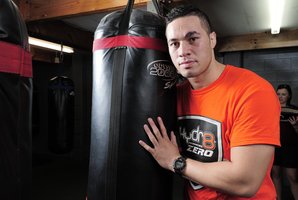 Rap music fills the room as Joseph Parker dances to the beat to warm up for his morning pads session.
Decked out in red and black colour co-ordinated training gear, he went for a run hours before.
Parker's trainer Kevin Barry watches his charge throw shadow combinations: jab-jab, jab-jab-hook.
Then it's time for the veteran coach to impart some knowledge.
Parker has had an opponent change for this weekend's bout on the undercard of Wladimir Klitschko's world heavyweight title defence against Australian Alex Leapai in Germany.
The stocky Sherman Williams has pulled out and 1.96m Brazilian Marcelo Luiz Nascimento (17-5) has agreed to step in the ring with Parker.
Parker's perfect 7-0 record will be on the line and the fight plan will change against a taller opponent.
Barry talks Parker through a couple of new combinations that will help the South Aucklander hatch a plan to produce a victory on Sunday morning (NZT).
Nascimento presents a 16cm height difference to Williams and is also 4cms taller than Parker.
Parker's camp know the Brazilian loves to come out swinging early so they will need to weather a storm in the first couple of frames.
From there, Nascimento fights with his chin on display, which isn't a smart option, and Barry tells Parker they can knock the 33-year-old out.
Barry has donned the pads now, with a body protector to absorb the shots Parker delivers to the mid-section. Parker's jabs move like lightning, while you can see the improved power in his hands as Barry tells the 22-year-old to work the solar plexus as it will bring the big man down to size.
Five three-minute rounds of pad work have been completed.
All of this has taken place in a small conference room at their Essen hotel.
It doesn't seem like a place where New Zealand's next great hope of heavyweight boxing would complete his training leading up to his first major fight on the international stage. From an audience of three Kiwi journalists, it's a world away to entering the Konig Pilsener Arena in Oberhausen this weekend, when 12,000 people will be watching.
•Daniel Richardson is in Germany courtesy of Duco Events.