Van Gaal fits mould as manager to take over from dour Moyes but club should be wary of the Assured One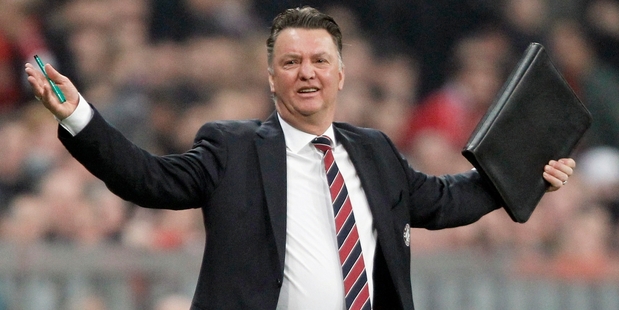 Louis van Gaal is the type of man who sends Valentine's Day cards to himself. He loves himself, admires everything he stands for and will enjoy all this talk of being linked to Manchester United. The ego has not landed at Old Trafford, and may not if heavyweight candidates such as Jurgen Klopp or Carlo Ancelotti can be somehow persuaded to forsake the Champions League, but van Gaal seems favourite because he is available and embodies the qualities United seek.
Sacked David Moyes proved the dour one. United now look for the confident one, a successor with a touch of swagger and a commitment to daring, intelligent football. Someone like van Gaal, the assured one. The caretaker, Ryan Giggs, clearly a full-time United manager in the future, could accelerate his managerial education working alongside the likes of van Gaal. Pep Guardiola learned much from the Dutchman.
It seems inevitable that United will go foreign. The frustration that Moyes feels will be echoed across the British coaching community. The Scot's failure is a blow for the coaching hubs developing British coaches. Brendan Rodgers, the Northern Irish shining light at Liverpool, at least continues to prove there is vibrant talent.
The Premier League manager of the year is a battle between Rodgers and Tony Pulis, the Welshman who has not only rescued Crystal Palace but has lifted them to 11th. Steve Bruce's Hull City are probably just about safe from relegation, always their first mission this season, and have the joy of an FA Cup final. Nigel Pearson and Sean Dyche have reached the Premier League.
But the stock of Alan Pardew, Sam Allardyce and Paul Lambert has fallen. Tim Sherwood looks likely to leave Spurs in the summer while anything could happen with Garry Monk at Swansea and Neil Adams at Norwich. Premier League owners, many of them foreign, will surely be less inclined to entrust their valuable clubs to British managers in the wake of the failed Moyes experience. The betting for his successor, a field led by van Gaal, reflects that.
United have every right to be slightly cautious with van Gaal. Holland's national-team manager has not coached a club since 2011. He is being regularly linked with Spurs. He has hardly distanced himself from current vacancies. The shrewd van Gaal may be playing a game. Maybe he assumes every club wants him. It all seems slightly unfair on the Dutch FA.
Whether van Gaal is appointed or not, his most obvious attributes are those United crave. His footballing ethos fits United's attacking philosophy. His strong personality would suit United. They need to reacquire some of the brio and bullishness that defined life under Alex Ferguson.
van Gaal certainly offers that. On arriving at Ajax for the first time, he congratulated a director "on signing the best coach in the world". On his first day at Bayern Munich in 2009, he declared: "I am who I am: confident, arrogant, dominant, honest, hard-working and innovative."
Too arrogant? In truth, United could do with a younger version of Van Gaal, somebody of Klopp's class who does not pick as many fights as the 62-year-old coach.
Van Gaal is prickly, self-regarding, but he is very good.
Eloquent in three or four languages, van Gaal speaks excellent English, although the word modesty does not appear in his broad vocabulary. He talks of players coming up to him and saying "how great it is to work" with him. That did not happen with United players under Moyes.
His way is 4-3-3, the Dutch way, as with his Holland side, but he varies, having played 4-2-3-1 at times at Bayern. He has argued frequently that it depends on the players available. "I played 4-3-3 with Ajax, 2-3-2-3 with Barcelona and a 4-4-2 with AZ," he once remarked. "I'm flexible." He would make United more exciting.
Van Gaal's teams have always played with style and belief, traits United fans want to return to Old Trafford.
A DVD of Ajax's Champions League triumph in 1995 will surely feature in any interview. Compared to Moyes's inhibited nature, van Gaal was the master of the grand gesture. Yet van Gaal's crowning glory came 19 years ago. United should try for Klopp first and then return to van Gaal. Telegraph Group Ltd