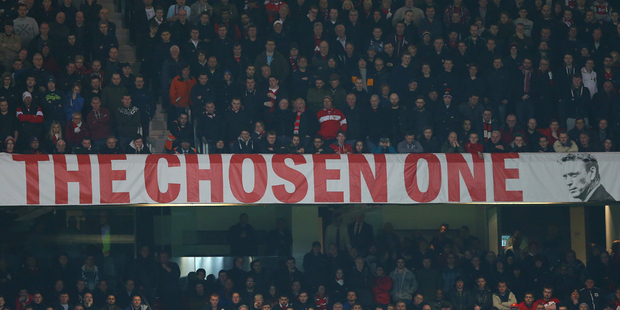 From a $150k banner to a cop kicking sports fans, Daily Shorts looks at the light-hearted side of sport
If there was one thing that haunted David Moyes during his time as Manchester United manager (apart from Sir Alex being sat in the stands, horrendous on-field performances and a lack of respect in the changing room) it was the infamous 'Chosen One' banner.
It took pride of place at Old Trafford after Moyes' appointment, with the Scot being selected to take charge by ex-boss Ferguson.
However, as we all know, instead of being a source of inspiration, it proved to be a monkey on his back, and the banner has now apparently gone up for sale.
The item is accompanied by a light-hearted description, in which the seller offers to include England international midfielder Thomas Cleverly, for the meagre price of £64.1m.
The banner is currently mid-auction. At time of publication it was available for bids in excess of £154,000.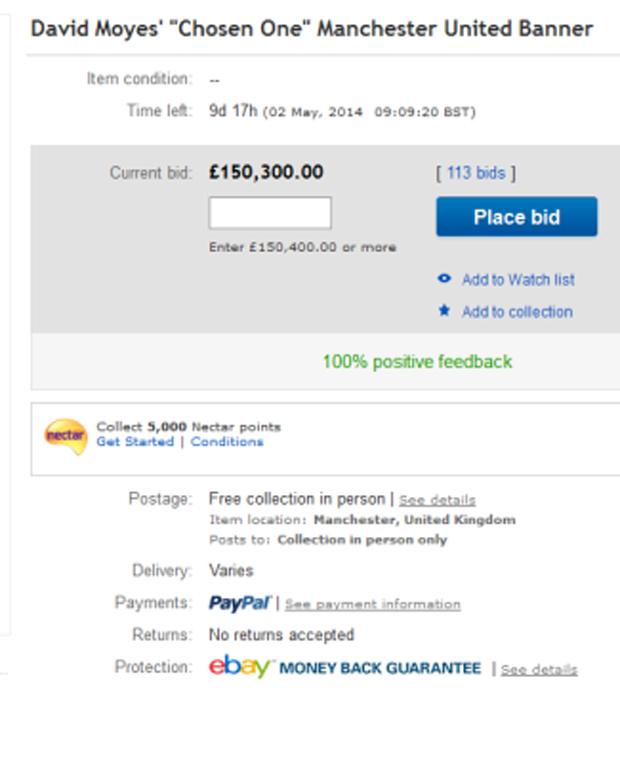 Moyes' departure from Manchester United has been greeted in a light-hearted manner on social media.
Sir Alex Ferguson's resignation last year provoked heartfelt statements, but the aftermath of the sacking of Moyes couldn't be more contrasting.
BREAKING: Live scenes from Old Trafford. pic.twitter.com/EOfLIooXeY

— BBC Sporf (@BBCSporf) April 22, 2014
Check out Sportsmail's picks of the very best memes and virals circulating around the web, including vines.
Little kid loses his mind after getting foul ball
During a Major League baseball game between the San Francisco Giants and the Colorado Rockies yesterday, a kid lost his mind.
After being handed a foul-ball, the young boy could simply not hide his amazement at his good fortune. For a single moment, he was king.
The next time some grouchy old man tells you that kids don't appreciate things these days, just show him this clip.
Cop trips high school kids rushing field to celebrate win
From our 'Only in America' file comes a heartwarming tale of celebration, ruined by a miserable old cop.
At the eight second mark of this video, you can see a man in pink shorts and a visor in the lower right corner go sprawling to the ground.
He was clearly tripped and when he turned around he saw Georgetown police officer George Bermudez staring down at him.
Students at Vandegrift High School in Austin, Texas rushed the field because the girls soccer team won its first state title ever.
It all seems pretty harmless and goodnatured, but Burmedez was not impressed. He didn't stop with pink shorts man either (who limped off the field), he would go on to try and trip another female student, bear hug another and shoved another girl down for good measure.
Bermudez has been placed on leave.
And finally, what the heck is going on in this photo from last weekend's match between the Chiefs and Crusaders? Sam Whitelock looks on as Owen Franks is punching Josh Hohnek's ear, kissing the back of his head while squashing his nose with his forearm.
It looks like a storyline straight from Game of Thrones.