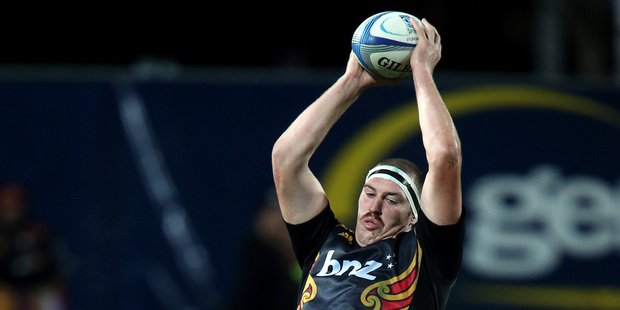 The clock is ticking on the Chiefs' efforts to fix their malfunctioning lineout because after their mauling in this area at the hands of the Crus-aders, the Brumbies will be aiming to kick them where it hurts in Canberra.
The Brumbies, second overall and with one of the best lineouts in the competition, are coming off a bye; the Crusaders are going into one. The Chiefs, though, must once more enter the breach in what will be an extremely tough test of their mental and physical fortitude on Friday.
"She's pretty tight now," Chiefs coach Dave Rennie acknowledged of the competition after the Crusaders' 18-17 victory at Waikato Stadium cut his team's New Zealand Conference lead to three points. "Obviously if we'd won we would have kicked clear and found a little bit of space but that's the nature of this comp and now we'll need to show the character that we know this group has got and fight our way back out of it."
The obvious area of concern is the lineout, an area in which the Chiefs have long struggled and where the Crusaders put enormous pressure on in Hamilton on Saturday night. The Crusaders are the best in the competition in turning the heat on in the lineout and it made for an extremely tough night for 21-year-old Chiefs hooker Rhys Marshall.
"He's a bloody good player and great around the track," Rennie said. "He'll be frustrated. I think there were three not straights and a handful of ones that were overthrown. Some of it is a combination thing but over the last couple of weeks he's gone bloody well. He takes it pretty hard, too, as a young fella. He'll be hurting, he's a good kid and he's working bloody hard on his game. It's just one aspect that needs to be better."
Watch: Rugby highlights: Chiefs 17 Crusaders 18

Rennie added: "We've got some strategies around how we approach the lineout so tactically we've got to be a bit smart. We certainly can't operate off losing that many lineouts. When we force a little bit of pressure on a team we're just releasing it straight away. We've got six days to get it right."
The Chiefs' paranoia about their struggling set piece led to some quick throws which simply put them under more pressure. It played straight into the hands of the Crusaders who wanted field position in order to turn the screw. The fact they were often giving away the lineout throw didn't concern them in the least because they knew they had a good chance of getting the ball back.
Blackadder said the set piece was a big focus. "Especially with the weather conditions [rain and wind], we thought that would be quite critical. We wanted to put a lot of pressure on there."
The Brumbies, like the Crusaders, play a structured game based around set piece dominance.
Rennie's men are used to living on a diet of limited possession but Aaron Cruden's replacement Gareth Anscombe doesn't quite have the same knack of making something out of nothing.
No8 Liam Squire and halfback Tawera Kerr-Barlow will require concussion tests this week, but Rennie will hope to welcome back midfielder Charlie Ngatai and wings James Lowe and Asaeli Tikoirotuma.
•Chiefs lock Michael Fitzgerald was cited for his dangerous tackle on Crusaders skipper Kieran Read after which the All Black was forced to leave the field with concussion.
- APNZ