Super Rugby has reached the halfway point. Gregor Paul reviews the action so far and suggests what needs to happen in the next six weeks.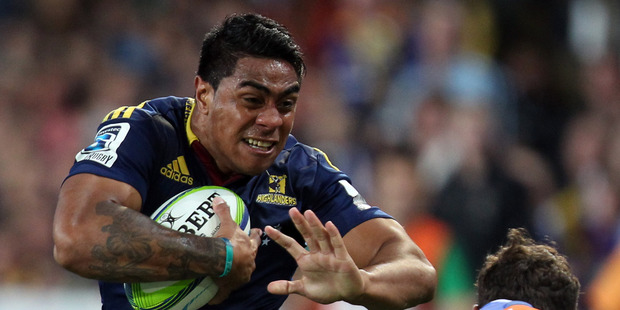 Biggest surprises
Highlanders
Honestly, who didn't think this lot would have disappeared without a trace by now? But here they are, in the thick of it and playing too well to be discounted. They have played simple, effective rugby but the biggest difference is that they have rediscovered their passion.
Brad Thorn
He was previously indestructible. He suffered a hamstring injury once in 2010, that kept him out of a November test against Ireland and he was filthy about it. Now he's been ruled out for the season with a bicep injury that's going to require surgery and leaves his playing future murky. Could this be the end of the road for big bad Brad? That would be a massive surprise - who didn't think Thorn would play forever?
Jordan Payne
Who? Precisely. The 21-year-old outside back had the unusual distinction of playing Super Rugby before ITM Cup rugby.
In fact, he'd barely even played senior club rugby but the Chiefs have seen something special in him which is why they gave him a debut against the Rebels. The Chiefs do have an extraordinary eye for emerging talent, but even for them, picking someone out of Under-21 club rugby is a surprise.
Biggest advancers
Malakai Fekitoa
Unused and unwanted by the Blues last year, Malakai Fekitoa's future appeared far from promising when he washed up at the luckless Highlanders. Now, everyone is wondering how the Blues failed to see what they had. Fekitoa has been a revelation-the best centre in the competition and almost certainly going to be in the All Black wider training squad.
Simon Hickey
This was supposed to be the year of Benji Marshall. The former NRL star was going to be the man to bring the masses to Eden Park. But for whatever reason, the Blues coaching staff decided in week two that the 20-year-old Hickey was ready to be the saviour at No 10. He's not even in the full squad and yet his composure, patience and vision have made him the first choice and a player around whom the Blues can build a team.
Augustine Pulu
He started the season as the Chiefs' No 2 halfback. Now he may well be their number one and his abrasive, physical style has put enormous pressure on halfback rival Tawera Kerr-Barlow.
Biggest disappointments
Benji Marshall
The disappointment is that we haven't seen enough of Marshall to make any definitive judgement. No one can really say whether he's got a future in this code or not because he hasn't had enough game time.
Young Hookers
The All Blacks have been transparent - there is an All Black place up for grabs. If any hooker can impress, they will be in and yet it's hard to see that anyone particularly has. Not really - not in a "you must pick me" kind of way. Ged Robinson has probably been the pick of the bunch so far.
Robbie Fruean's health
This man has no luck. When he scored a try with his first touch of the ball in the opening game against his old franchise, it felt like this might be his year. But his health is again an issue and its hard not to wonder whether Fruean will forever be plagued by heart troubles.
Biggest questions to arise
What was Aki thinking?
Aki was on the All Blacks' radar this time last year and now he's suddenly committed to being Irish. He's off to Connacht - a bleak place that is lashed by the Atlantic Ocean and one of professional rugby's least glamorous outposts. Presumably he's being paid wel l- or at least his agent is.
Who will be next Canes coach?
Surely it has to be Chris Boyd? Experienced,smart, straightforward and skilled. Even better - he knows Wellington and Under-20 rugby inside out. Don't even bother with interviews-just give him the job.
What's happened to Zac Guildford?
The former All Black hasn't been seen in 2014. The Crusaders have preferred wider training squad members to Guildford. Is he being punished for signing with Clermont? By all accounts he's fit and raring to play.
Biggest questions about next six weeks
All Black tidal wave
As per usual, only a few senior All Blacks have consistently impressed - Ben Smith and Aaron Smith most notably. In past seasons, the biggest names have come to life in this stretch and changed the complexion. The Crusaders, with Kieran Read, Sam Whitelock, Owen Franks and Israel Dagg, and the Blues - Charlie Faumuina, Steven Luatua and Charles Piutau - have the most to gain if their big players find a higher gear.
No Crude Oil
The Chiefs have been miraculous in the way they have weathered injuries, swapped players around and never skipped a beat. But they will be without their talisman, Aaron Cruden, probably until after the June tests. Can they be the same team without him?
The weight of expectation
The Crusaders so desperately want another title - it's been six years since they have won and in previous years, they have toiled under that burden of expectation. It has been too much for them and they have been hampered by the pressure. Can they forget all about outcome and focus purely on performance?
What each teams need to do
Blues
Improve their accuracy, attention to detail and urgency. This is a team that could build momentum if they can find a consistent intensity and cohesion in their performances.
Chiefs
Take control by playing like champions. The competition is screaming out for one side to establish itself as the favourite and the Chiefs have the squad and experience to do that. They need a series of emphatic wins to rebuild their aura.
Hurricanes
Play with what the older generation might call gay abandon. Forget all that structure and discipline business and just give it a hurl. Pass and run ... see what happens.
Crusaders
Find an intimidating edge in their forwards and play with more precision and direction in the backs. The players are all there - they just need to modify a game plan that is a little predictable and one dimensional. Highlanders Defend how they did against the Bulls, continue to be clinical on attack and convince themselves they are good enough to win against anyone.
The critical men
Blues
Frank Halai hasn't been the force he was last year. Play hasn't come his way and he hasn't been able to find it much. He needs to remember he's a deadly weapon.
Chiefs
Big Ben Tameifuna is one of the best scrummaging tight-heads when he's in themood. He looks fitter than in previous years but hasn't managed to buckle anything yet.
Hurricanes
Cory Jane has been quiet. He's had the odd touch here and there but nothing sustained. That fend of his needs to be seen more.
Crusaders
Tom Taylor has been in and out of the team and his goal-kicking percentage has dropped to 71. Hasn't played with the same calm, measured authority as he has in the past.
Highlanders
Liam Coltman needs to bring some more accuracy and ferocity to his role. He's played quite well but that won't be enough to win him an All Black place or inspire those around him.