NZ boxer who took on Klitschko twice gives a few tips to Andrew Alderson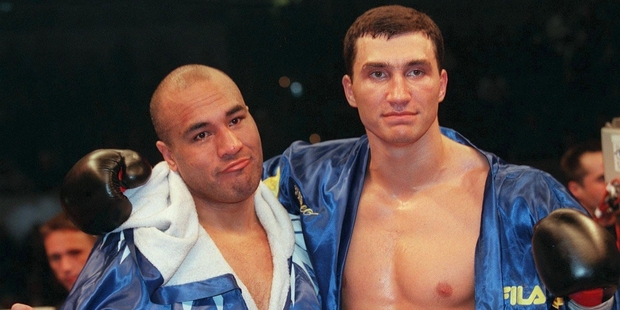 If Samoan-born, Brisbane-based boxer Alex Leapai needs advice before challenging world heavyweight champion Wladimir Klitschko for his myriad titles next weekend in Germany, he need not look far.
Fellow Brisbane resident and Tonga's only Olympic medallist Paea Wolfgramm fought Klitschko twice. The Ukrainian defeated Wolfgramm for the super heavyweight gold medal at the Atlanta Games. The Tongan turned pro later in 1996 and met Klitschko again in Hamburg in March 2000. Wolfgramm was knocked out 90 seconds into the first round.
"I was a last minute replacement so I came in about a fortnight beforehand," Wolfgramm, 44, says. "They [the promoters] offered a bit of money and I thought, 'Let's see what happens'. It didn't turn out too good but them's the breaks.
"I was training at a gym in Colorado, sparring with [versatile pugilist] Ray Sefo. Looking back, I shouldn't have taken the fight. I wasn't ready for that sort of thing, but that's how it goes.
"He has a typical strong upright European technique. There are a lot of jabs and straight rights. He's a bit like the All Blacks; he does the basics very well, very fast."
Wolfgramm says physically and psychologically, Klitschko has few weaknesses.
"Before [the professional] fight, I did the old stare-down, which I thought I did quite well, you know, out-stared him and all, even if the top of my head was only level with his nose [Klitschko is 1.98m]. But if ever there was proof a stare-down meant nothing, that was it.
"The other problem was that outside the ring, Klitschko was a right gentleman. That was a bit off putting. They've got no place in boxing.
"Another alternative might be to attack him during the national anthems or to say something at the press conference like: 'Putin's right, you guys [Ukrainians] should go back to Russia'," Wolfgramm says with a well-meaning chuckle.
Wolfgramm, who says he is Facebook friends with Leapai, says the Samoan has a dilemma.
"You can either attack Klitschko or make him come to you. If Alex can make him come forward, he might be able to counter him, but I don't think Alex is that type of fighter. He's a go-forward kind of guy.
"Alternatively, if he stands off too much he's going to get filleted from a distance - skewered. There are only two places he can be: well out of reach or inside underneath. We boxers talk about being inside his shorts. They say Klitschko's chin is suspect. There's no such thing as a good chin. There are just chins that haven't been tested.
"But to do that, Leapai's going to walk through a minefield if Klitschko gets his right hand going."
Wolfgramm's last fight was in 2001. He said pro boxing was an eye opener.
"It was different doing it for money rather than love. I would never have turned pro without a contract but I didn't want to say, 'no', once one turned up. I asked my wife and my mum; they didn't want me to turn pro so I thought about and said, 'Nah, bugger it' and they supported me."
After returning to New Zealand and doing the odd spot of coaching in Tonga, Wolfgramm moved to Brisbane to run a car hire business a couple of years ago.
"I'm playing a businessman but I'm a shorts and T-shirt type guy so I try to keep out of the front office. It's feast or famine; six months, you lose money and six months, you make it back.
"Brisbane seems to be where all the Kiwis come and they're far more nationalistic than at home. I've never seen so many people wearing Warriors and All Blacks jerseys or plastering silver fern stickers on their cars.
"New Zealand is still home. I lived a lot of years there and I haven't burnt any bridges, although I did switch allegiances to supporting the Wallabies in the 1990s when one of my best friends from school [loose forward Daniel Manu] was selected. But I keep it pretty quiet."