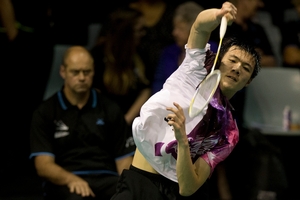 Top seed Hsu Jen Hao carried on his relentless run through the New Zealand Open field to progress to today's men's singles final at North Shore Events Centre.
Hao was too good for India's Arvind Bhat and even though he's feeling the pinch physically in his fifth straight tournament, he is a class act, and won 21-14 21-9.
"My match play is fine, this is very good but physically I am still feeling a little tired after so many matches in five tournaments," Hao said.
"Today was a good match for me because I was able to be at the net, this is my preferred game and it worked well for me. Tomorrow will be fine, just one more match."
The second semifinal was a much closer affair, with the 21-14 21-18 score not doing justice to the competitive nature of the clash between fifth seed Tsui Wei Wang from Chinese Taipei and ninth seeded Malaysian Mohammad Arif Abdul.
Wang eventually wore Abdul down to book an all-Chinese Taipei final, but both players entertained the large crowd with a mix of great attack and innovative defence - especially from the quick-footed Abdul who found new ways to return the shuttle when all looked lost.
"I am very happy to have won this match," Wang said.
"It was a very hard match and my opponent played very well and I did not think I would win the match."
Wang said he had played Hao "three or four times but have only won once, so tomorrow will be very difficult for me."
It will be an all-Japanese women's final today.
Kana Ito was the first to book a spot in the women's singles final at the SkyCity-sponsored tournament, with a surprisingly easy victory over second seed Chi Ya Cheng of Chinese Taipei, who was the only seed left in the draw.
Ito established dominance early and never gave Cheng an easy point, winning 21-13 21-9.
A Grand Prix final is not a new experience for Ito though, so nerves are not likely to play a part in today's final.
"This is my fourth final and I have three wins already in my career. I will be very confident tomorrow but will have to play well if I am to win, but I am confident," she said.
Nozomi Okuhara beat compatriot Ayume Mine 21-13 21-12 in the other semifinal.
The Australians sole representatives left in the tournament booked a place in the women's doubles final with fourth seeds He Tian Tang and Renuga Veeran winning a three-game thriller against Japanese pair Yuki Fukushima and Sayaka Hirota.
The Australians will play Shizuka Matsuo and Mami Naito from Japan after they enjoyed a comfortable straight games win over Chen and Cheng from Chinese Taipei in their semifinal.
The men's doubles final will be between unseeded Selvanus Geh and Kevin Sukamujo (Indonesia) and second seeds Hung Ling Chen and Chia Pin Lu (Chinese Taipei).