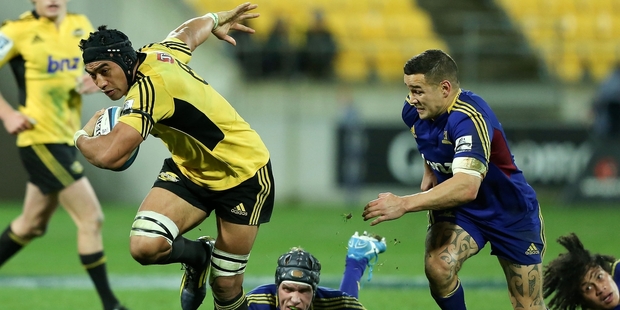 There's a C-word that has been a problem for the Hurricanes.
It's not the sort of word you shouldn't say in front of your mother-in-law but it's almost equally as scary for Mark Hammett's side.
If you hadn't worked it out yet, consistency is the magic piece of vocabulary you're looking for.
During Hammett's reign the side have promised to build and then found ways to hurt themselves as their campaigns unravelled.
The Hurricanes are at that familiar juncture this week, coming in to their game against the Blues at Westpac Stadium tomorrow night on the back of two victories and a bye.
"We talked about how we haven't achieved anything," Hammett said of their buildup. "It's nice to play consistent footy for two weeks but two games doesn't make you consistent."
So the search for consistency continues, but they have at least steadied the ship after losing their first three games of the year.
They're 10th on the ladder but are one win out of the playoff positions.
"We talked about remembering how determined we were to put things right," skipper Conrad Smith said. "We knew we were a better team than the way we were playing. Just because we are winning, we still have to go through that detail and that's the reason we are winning."
Hammett has the luxury of naming a near-identical starting XV to the one that disposed of the Bulls in Napier a fortnight ago with the only change coming in the front row as Reg Goodes has replaced Ben Franks, who has a groin injury.
"It's not really about him filling Ben Franks' shoes," Hammett said. "Reggie's got some really great skills of his own. We know what a ball-carrier he is and how good he is in the clean-out area."
Hammett has tinkered with his bench slightly and welcomes back experienced heads Tim Bateman and Chris Smylie, although damaging loose forward Brad Shields will sit this one out as a precaution after he took a knock to his knee on Monday.
Meanwhile, Hurricanes No8 Victor Vito is off-contract at the end of the year and reports out of France suggest he may be heading to the Northern Hemisphere. The 27-year-old hasn't made a definitive call on his future and said he still had a strong desire to play at international level.
"My goal is to get back in that black jersey," Vito said, "whether it's for the 15-a-side team, or I know that there's a Commonwealth Games this year that I'd like to put my name up for as well."
Vito has pedigree in sevens should coach Gordon Tietjens select him.
- APNZ