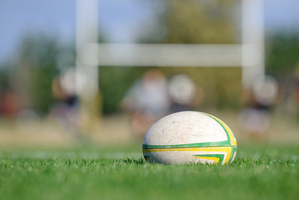 A Gisborne player is to appear in front of a rugby union judiciary on a charge of stamping after an incident which left an opponent needing 70 stitches to a head wound.
High School Old Boys halfback Sione Tamale was sent off for allegedly stamping on the head of Pirates lock Niko Brooking-Hodgson in a Poverty Bay premier club rugby match on Saturday.
Brooking Hodgson's ear was almost ripped off and he later required 70 stitches, many of these internal.
A doctor in the HSOB team and another doctor on the sideline initially tended to Brooking-Hodgson on the field while waiting for an ambulance.
Referee Royce Maynard red-carded Tamale and shifted the match to a neighbouring field as emotions ran high among players from both sides.
Tamale was later cited by a spectator in a letter to the Poverty Bay Rugby Football Union.
He faces a charge of stamping and will tomorrow night appear in front of a three-man judiciary committee chaired by lawyer Adam Simperingham.
Tamale will be represented by HSOB coach Wayne Ensor, manager Brendon Hart and club lawyer Mark Sceats.
An Otago club player was banned for 20 weeks in March for stamping on the head of an opponent during a pre-season match between Taieri and Toko. The player needed seven stitches to a head wound.