Team have almost full contingent to choose from but Marshall's role a nagging question.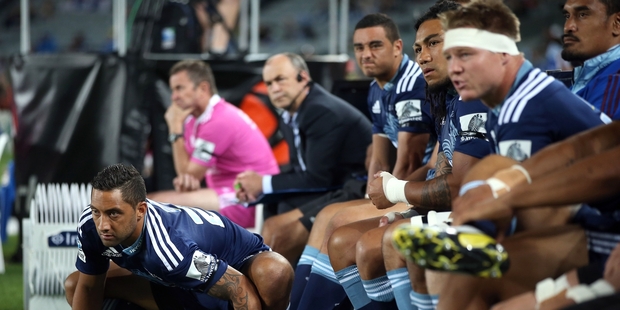 The Blues are welcoming back their reinforcements, and not before time.
Other than the luckless Baden Kerr, out for the season after finger surgery, and Kane Barrett and Piri Weepu, both due back for selection on Anzac Day, the Blues have a full contingent to choose from as they try to lift themselves from their lowly 11th spot on the Super Rugby table.
But still the nagging question remains as to what exactly to do with Benji Marshall. Coach John Kirwan says he is almost ready, but this "project" has taken longer than most would have hoped or liked.
"It's frustrating for him. I knew it would be like that. He's just about ready to say, 'I've done my learning. Here we go.' What we are trying to do is not expose him from a tactical point of view. It's been frustrating for him but he's taken that as a positive frustration. He's working hard on his game. I've just got to get that timing right. But I knew it was a difficult game to adjust to in those positions," says Kirwan, who admits Marshall needs a lot more rugby.
The folly of not having Marshall fully involved in any ITM Cup action last year is clearly evident. In the June window he may have to play for his Waiheke club, which unfortunately only plays in first grade, the old Senior B, effectively the third tier of Auckland club rugby. The Blues have a fixture against the New Zealand Barbarians in Whangarei on June 13, which is shaping as a key opportunity for Marshall to show his wares under rather less pressure.
Kirwan was non-committal about the prospects of Chris Noakes being promoted to the bench as a goalkicking backstop, at the very least, given Weepu is not quite ready yet.
"For us, there is competition on at 10, so this week it's important we put out the team against the Hurricanes that is ready to play them how we want to play. One of the things I learned from last season is having a competitive side, and Benji has to earn his spot like everyone else."
Kerr's injury has opened the door for Hawkes Bay's Ihaia West to join as cover. The 22-year-old Maori All Blacks pivot was considered unlucky to miss a full contract in New Zealand.