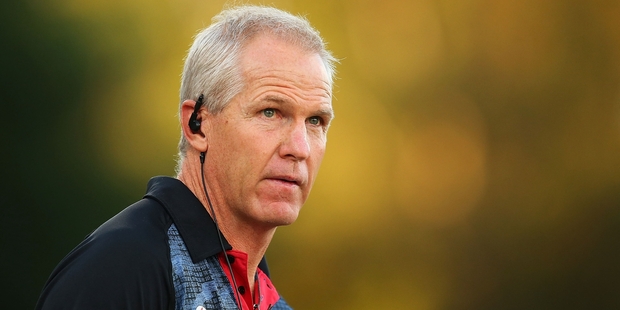 Matt Elliott 'talked' his way into the job at the Warriors - and the lack of due diligence around his appointment has costs that go well beyond his payout.
In the wake of the fallout since Elliott's departure last Monday, it is worth reflecting on the collateral damage of the Warriors' bungled search for Brian McClennan's replacement.
There were so many things wrong with the process; axing McClennan with two games to go in the season, giving long serving assistant Tony Iro a hospital pass, stating publicly they wanted a "marquee name" and rushing the decision rather than being patient - so it was no surprise they ended up with the wrong man.
Remember, Elliott wasn't even on the radar when the Auckland club first began to look for a new coach.
Even when some of the marquee names fell out of contention, Elliott was still well at the back of the pack.
But he managed to convince the Warriors decision makers - after a couple of interviews - that he was not just the best candidate for the NRL head coaching position, but also the best man to lead an overhaul of the entire club.
"Once we heard Matt had an interview, we knew he would get the job," says a long-time Elliott associate. "He can out-talk anyone and we knew he would talk his way into the job ... he can dazzle people with facts and figures."
The Warriors brains trust were suitably bedazzled, despite his less than spectacular CV.
"We're thrilled to secure a coach of Matthew's calibre," said chief executive Wayne Scurrah at the time of the announcement in October 2012.
"While we have spoken to a number of contenders, Matthew consistently impressed us every time we met him with his total vision of how our football programme should be structured and run.
"Through his long association with the game as a player and especially as a coach, he appreciates as much as anyone just what's required to achieve the standards we are striving for.
"Our ultimate goal will always be to win premierships and, in Matthew, we have secured a coach not only capable of achieving this but also with the skills and vision to build a stronger total football club."
The statement added that Elliott's appointment "followed a robust and integrated process involving Scurrah, recruitment and development manager Dean Bell and chairman Bill Wavish, with input throughout from other board members as well as owners Owen Glenn and Eric Watson."
But how robust was the process?
Where was the due diligence, the consultation with Elliott's former players and staff?
A few phone calls could have given a clearer picture of what Elliott could bring to the table.
There were also no discussions with any of the Warriors playing group. There were plenty of Warriors who had played against Elliott's Panthers teams or were close to his former players at Penrith or Canberra.
To be fair to Elliott, he worked hard, had plenty of innovative ideas and drove the investment in new equipment, a new gym and hyperbaric chamber.
He was committed to the task but crucially failed to win over the playing group.
He wasn't unpopular but there was little chemistry between players and coach - he couldn't get the best out of key men and was often indecisive.
During the first off-season, the team worked endlessly on a particular set move but that was abandoned after the first game when it didn't work.
Elliott had also wanted his team to play like the Bulldogs - whose wide-ranging, ball-playing forwards had been a revelation the previous season.
It was a departure from the Warriors' style and led to complicated plays and structures that stifled the team's go-forward.
After the club hit rock bottom with the 62-6 embarrassment at Penrith, senior players wanted a more direct approach, which paid off as the team found form during the middle of the season.
Elliott changed everything at the club - even bringing in a nutritionist with unconventional dietary recommendations - and tried to alter too much.
His communication style also didn't click with most of the players - "he probably lost some of them on day one" said one observer. The players often didn't understand what he wanted them to do.
McFadden has a more direct, uncomplicated style which should serve him well."
"[Andrew] is straight to the point," said one senior Warriors player. "And he gets his point across really well. That is probably the biggest difference between him and Matt. He's a determined guy, leaves no stone unturned and he expects that from his players. He is very thorough with his video [analysis] and he is straight to the point and that is what he require."
"The main difference between us is that I am a bit more black and white," says McFadden.
"Matt wants to get the best out of people but I want to see it on the field, I want to see that performance. I guess I'm a straightshooter - I tell it like it is and that is what the players really respond to here. If they don't do it. They will know about it; they might not be happy about that initially but, ultimately, they will know where they stand."