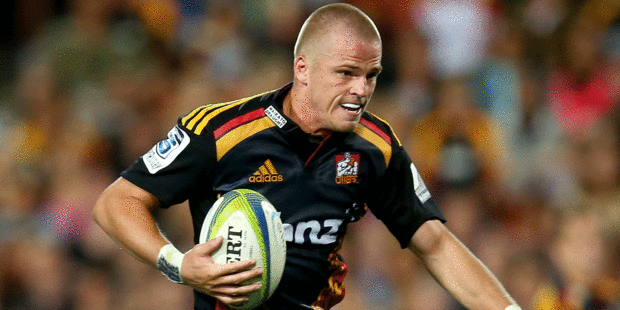 CHIEFS 22
REBELS 16
His replacement grabbed 17 points and put in a solid display but the Chiefs missed Aaron Cruden's spark against the Rebels tonight.
While Gareth Anscombe's boot brought the out-of-sorts defending champions their first victory in almost a month, their explosive attack fired few shots without their dynamic co-captain.
Rugby: Sloppy Chiefs get the job done
Better sides than Melbourne - still without a win outside of Australia - could punish a blunted Chiefs and, with Cruden on the sidelines for another five weeks, better sides are on the way.
Next week the Chiefs host the Crusaders and seven days later they face a tricky trip to Canberra to play the Brumbies. Those fixtures are the type of occasions where Cruden would show his value; he is often the key that unlocks even the best defence.
Instead, it will be Anscombe lining up at first five-eighth, a player who showed tonight he is an able deputy but one perhaps lacking the bit of genius that emanates from Cruden's game.
In his first start in the Chiefs' No 10 jersey, Anscombe was wisely tasked with playing inside his abilities. He rarely ran the ball, opting instead to leave the play-making to the more willing members of his side's backline, and his kicking game was safe.
And, in fairness to Anscombe, even Cruden might have struggled to inspire a relatively insipid effort from the leaders of the New Zealand conference.
But when the Chiefs most needed to demonstrate some imagination, Anscombe never attempted to conjure a piece of magic like those Cruden so often supplies.
That was exemplified during the Chiefs' most sustained period of pressure in the second spell. Anscombe was sound, picking the right pass as the champs searched in vain for their second try, but 13 phases went to waste as the Rebels remained firm.
It was a moment that called for invention and, in Cruden, the Chiefs have Super Rugby's version of Thomas Edison.
Anscombe was likely under strict instructions from his coaches as he finds his feet in the position, and his one true moment of brilliance did lead to the Chiefs' only try.
In stepping between two defenders before offloading to Sam Cane, Anscombe gave a hint of what life without Cruden could be like. But his five penalties, including one from near halfway, represented a more realistic view of a side shorn of their brightest star.
- APNZ