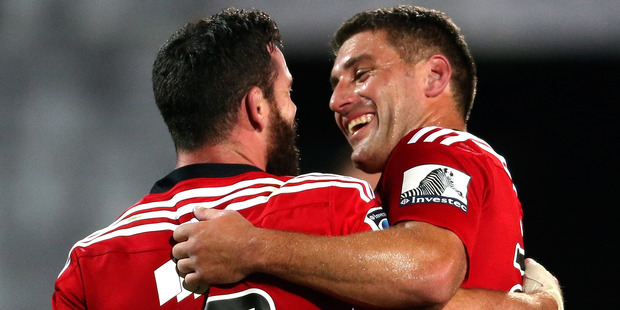 After struggling to find an effective midfield partnership since Robbie Fruean left last year, the Crusaders could be on to the right mix in Ryan Crotty and Kieron Fonotia, a new combination at this level but one which has its roots in Christchurch's New Brighton club.
The pair have been playing together since the age of six and have quickly clicked back into the well-worn groove started at the working class environs of Rawhiti Domain.
Crotty, who will turn 26 in September, is a relative veteran at this level. He made his All Black debut last year and has proven to be one of the Crusaders' most consistent and penetrative backs this season.
He captained the team to victory over the Lions at Ellis Park last weekend and alongside him was his old mate Fonotia, celebrating his first start for the Crusaders.
Fonotia, the Tasman Makos midfielder, is only a wider training group member at the franchise but could find himself with an upgraded contract by the end of the year.
"I was blimmin' excited to be starting with Fonny last week," Crotty said. "It was his first start and my first game as skip. It was pretty special for both of us and our families as well. We've been playing footy together since we were six years old, so it was a special moment in our footy careers and I'm sure we'll remember it for a long time.
"To his credit he took it all in his stride ... I thought he was amazing. He really stepped up and showed he can really foot it at this level."
Fonotia, 26, has been around the Crusaders scene for some time. Assistant coach Aaron Mauger referred to him as a "project". But at 1.86m and 108kg, he is a big man with the requisite skills and sense of timing needed at this level. It was his try, minutes after coming on as a substitute, which got the Crusaders home against the Stormers at AMI Stadium last month, their first win of the season after their losses to the Chiefs and Blues.
"I thought as a midfield we had real physicality last week, which was good," said Crotty. "There were some big shots going in."
Fonotia had to show the right stuff against the Lions - and he didn't shirk a tackle, even when prop Schalk van der Merwe charged at him. It was van der Merwe who came off second best, slung over Fonotia's back for Owen Franks to go in for the kill.
Fruean's departure for the Chiefs left a big hole in the Crusaders' midfield, one that former Hurricane Rey Lee-Lo hasn't been able to fill yet. It might just be that the answer wasn't too far away; one that was forged in friendship in Christchurch's eastern suburbs.
"Kieron has been a project for the last couple of years and he's really matured," Mauger said. "He's ready for this level of footy and that showed last week with the way he stepped up and performed. He's very physical with his ball carries - he put us on the front foot - and also he's pretty aggressive with his defence. Everything that we asked of him he provided."
- APNZ