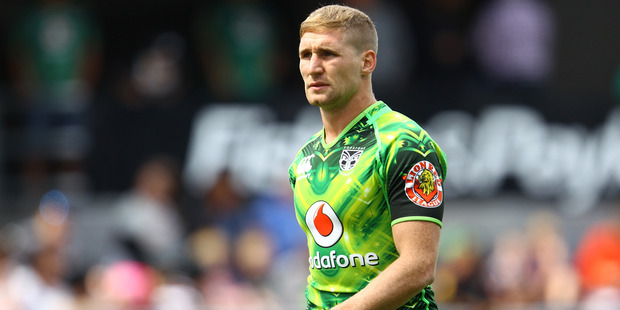 A gaggle of leading player agents don't think the ruckus engulfing the Warriors will affect their ability to recruit players for next season.
April is normally a month when a significant amount of business is done so the fallout from Matt Elliott's departure as coach is bad timing - but Steve Gillis, David Riolo and Frank Endacott would recommend the Warriors to their clients.
"I don't think it will have an impact at all," said Sydney-based Gillis, who represents Simon Mannering and Ben Matulino. "The club have the potential to be a real force in the game. It should be a pretty competitive unit, not one down the tail of the competition.
"One of the most important things players look for is financial stability and the Warriors don't have any dramas there. There are three, four, five clubs struggling over here.
"Players just want to know their pay is going to be in their bank account on a Thursday when it's due.
"If the major shareholder is about to abandon the club, I would be concerned, but Eric Watson is at the helm. There wouldn't be an agent in the game who would be concerned about sending players to the Warriors."
There are a number of reasons for players to want to go to a club - a desire for a change, lifestyle, playing opportunities, playing with a competitive team and, of course, money.
The Warriors have often had to pay more than market value to attract overseas-based players but many top players have little desire to move to Auckland.
"Money talks, definitely," Endacott said. "Players have a very short window to make a living to look after themselves and their families for the future.
"Sometimes we put younger players in clubs we think would be better for their career. As they get older, money comes to the forefront.
"I don't think [the past week] will hurt them in any way. There's always a case for players to come to any club, regardless of problems. Other clubs have had problems in the past. Look at the Bulldogs and the Tigers, but that's soon forgotten," he said.
"I have no doubts whatsoever this will blow over, and very quickly, and I think we will be back to status quo."
It might have a detrimental effect on player retention, however, with Mannering and Jacob Lillyman seriously considering offers from rival clubs. Mannering, in particular, seemed tired this week of the upheavals at the club.
"It's not nice," he said about the number of coaching changes. "Obviously it reflects on how you are going in your job [as captain] and the team if the coach is being moved on. They are just the fall guy for the team not performing."
Mannering and Lillyman are among several Warriors off contract at the end of the season, along with Nathan Friend, Kevin Locke, Suaia Matagi, Jerome Ropati, Sione Lousi, Charlie Gubb and Sebastine Ikahihifo.
The Warriors aren't huge recruiters in the scheme of things, and signed only three players last year. They have money to spend under the salary cap, although that is being challenged by the exchange rate, and one of the biggest decisions will be around Friend because hooker is such a crucial position.
Riolo agreed the Warriors shouldn't struggle to attract players.
"It depends on the player," he said. "Some don't have a lot of options and there are only a limited number of jobs.
" The club is very well resourced and well run off the field. It's not like the players want for anything. If a club is seen as a basket case off the field, it's less appealing."