Poor, divided management make Warriors a laughing stock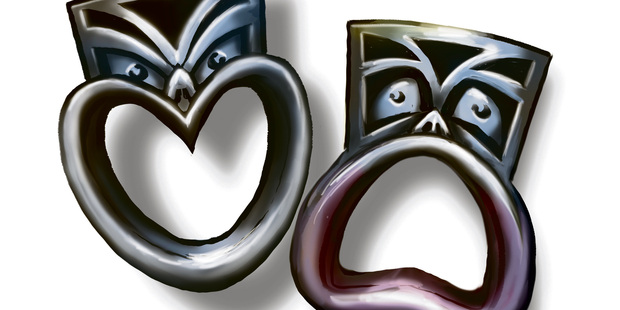 Things are getting so bad at the Warriors that the crowd numbers and Nathan Friend's tackle counts are threatening to meet in the middle.
A club that should permanently challenge for a top four position in the NRL is a laughing stock with egos and emails from the top brass running unchecked this week.
Erratic, divided ownership/management is hardly new in sport. The most famous case of recent times involved the former American owners of the Liverpool soccer club, George Gillett and Tom Hicks, who hit no-speaking terms shortly after their 2007 purchase.
This week, Sydney's Telegraph newspaper reported divisions on the Canterbury Bulldogs league board are so deep that the factions watch home matches in different boxes.
The Warriors are small beer compared with the likes of Liverpool, in finance and world standing. But they are kings in New Zealand, where league rides on their fortunes.
Not all rifts lead to strife on the field. Indeed, the Bulldogs of the mid-1990s won a title when directly hit by the Super League schism.
But in this case, the Warriors are a prime example of how poor, inconsistent management affects the team.
The understated, ordered running of the club during the Ivan Cleary era was blown apart by his departure and Owen Glenn's arrival as a co-owner.
This week's outlandish behaviour by those at the top has refocused attention on the performance of chief executive Wayne Scurrah, as the body count of departees looks set to mount and fans witness a shameful performance against Cronulla.
Many club supporters and observers wonder how Scurrah survives. The Weekend Herald understands that he was not exactly top of the pops with the now-departed men who had turned the club around - Cleary, John Hart, Tony Iro and John Ackland. What has to be assumed, though, is that Scurrah is delivering the financial performances for now that owner Eric Watson demands, no matter that the club is on a short-sighted, dangerous skid.
The club's attitude to spending on the team has undergone a remarkable cultural shift. During the Cleary era a pay scale was set with Steve Price, the club's greatest player ever and a towering figure in the Warriors' rise from the ashes, parked at the top. Any player demanding more than Price or an amount out of kilter with the scale would be pointed towards the nearby Auckland Airport.
Under Watson's sole ownership, a buttoned-down approach continued following Cleary's departure after the 2011 grand final season. Unfortunately, this was extended to hurt the club.
Scurrah trimmed the first grade squad when Brian "Bluey" McClennan arrived as the new coach in 2012. McClennan has admitted making mistakes in his short tenure, but he may have been a victim of Scurrah's determination to keep the books and himself looking good in Watson's eyes.
McClennan was desperate for his dream job, maybe too desperate, and did not stand up against this debilitating cost-cutting. Perhaps he also naively underestimated the toughness of the NRL competition, as shown by his decision to delay the start of pre-season training. Hart - a clever communicator and forceful personality - was no longer there to provide checks and balances against acts such as foolish book balancing.
Massive amounts of NRL first-grade experience and utility value exited in the form of Lance Hohaia and others. When injuries hit in 2012, young players and a rookie NRL coach were left exposed. The rot had set in.
Forward to 2013, when the arrival of coach Matt Elliott and new co-owner Owen Glenn saw the Warriors free-falling in the opposite spending direction. No expense was spared creating an aura around Elliott, who had a poor NRL record and was a Hail-Mary appointment dressed up as a super coach.
Elliott is regarded as an interview master, and once left a Penrith meeting where he faced the sack with a contract guarantee to the end of the next year. He has never been in the top echelon, though.
With Glenn's money on hand, a reconstructed club that had mirrored Cleary's minimalist personality became the fanciest place in town. Elliott was given the keys to the kingdom, and the gizmos flooded in - a hypoxic chamber, anti-gravity treadmill and even $1000 ice mittens. While there's nothing wrong with innovation per se, there is when it covers up a lack of true knowledge on how to run a club.
A truckload of TVs turned up, apparently to help monitor and tune the players' bodies although it is claimed they ended up stuck on music channels.
A skills area in the gym was obliterated by the technological rush. This high-tech atmosphere did not prevent Konrad Hurrell turning up for 2014 overweight, and key players like the flighty Feleti Mateo looking short on fitness.
Most significantly, there was the expensive pursuit of Wigan's little star, Sam Tomkins, involving a reported $1.4 million transfer fee and a wage estimated at a whopping $700,000. This broke the old code, which would have seen captain Simon Mannering - the player who sets the on-field standards - topping the payment hierarchy as Price once did.
Tomkins is not a bad player, but that's all so far. He has not outperformed previous fullback Kevin Locke. The cost of luring him will have been noted by fellow players and their agents. It is also understood that erratic playmaker Shaun Johnson, who signed a new three-year deal in February, has leapfrogged Mannering in the payment pecking order.
Sensible long-term policies, aimed at building a winning side that will draw the crowds, have given way to cheap tricks like hurling cut-price tickets at an uninterested public for tomorrow's match at Eden Park, something that might alienate dedicated supporters. What appears an impending move to Eden Park has been riddled with self doubt. Season ticket holders are not charged for the three games at Eden Park this year, but that only adds to the image of the Warriors becoming a low-rent outfit. Sam Rapira has even broken ranks to reveal reservations about playing at Eden Park.
The big fear must now be that a player like Rapira will no longer hold a special feeling for the Warriors. An exodus is on the cards.
Players come and go in professional sport but as Melbourne and Manly have shown, successful clubs need a stable, quality core.
The loyal Mannering responded to this week's madcap events by indicating he is considering leaving - for "family reasons" - when his contract expires this season. His dissatisfaction has been building for some time.
The captain's departure would be a disaster, but no one should begrudge Mannering, who has been let down. A terrific professional, he also deserves the chance to win a title.
He won't win one where he is.